This coming Monday, the 18th of May is the next Skills Night, hosted by the Chelmsford Amateur Radio Society's training team.
The Skills Nights continue to be popular events with visitors from clubs across Essex, Kent, London, Suffolk and beyond – keen to enjoy the evening's mix of hands-on demonstrations, activities, show-and-tell, tea and chat.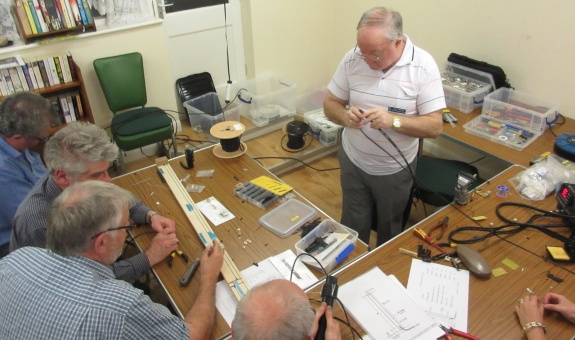 If you've been along to a Skills Night before, you'll know that the team aims to bring you a good mix of demonstrations, an opportunity to ask questions, and plenty of time to chat and swap ideas. If you've not visited Skills Night before – come along… there's no charge, and all are welcome – this is not a closed-door, members-only event.
Here's what's in store for the May 2015 Skills Night:
Construction – Peter M0PSD and David M0HBV offering 2m and 70cm Slim Jim antenna construction and adjustment – The cost of materials will be £6.50. The guys can also help with making your own patch leads, and equipment, tools and soldering irons will be available on the night. Come and have some fun soldering your own, with technical advice on hand if needed.
Working Portable – Has Charlie M0PZT's talk for CARS earlier in May stimulated the desire to get out in the fresh air and talk to the world, or did you miss out? Charlie's offering a "/P Workshop"
Full Licence Topics – If you're one of the several Intermediates studying for the Full, take Peter G0DZB up on the offer of explaining the unexplainable! Got something on the "Full" course you're struggling with, come and see Peter – Let us know in advance if you have a question, so Peter can bring along any props he might need
Ask Jim – With Peter taking care of the 'big' exam, what about the newer hams? Got a question, no matter how daft it may seem – Uncle Jim is here to help in the Skills Night Beginners Corner
Satellites: Getting started with working amateur radio satellites – Let Steve M0SHQ explain all!
Digital Badges – Nick M0NIB returns with scrolling callsign badge programming
EchoLink – Fancy giving EchoLink a try, either from your rig or via a computer? Jim 2E0RMI will be on hand to show you how you can make contact around with world without massive antennas
Data Modes – Essex Ham will be demonstrating popular data modes, offering some getting started guides, and providing the event's wi-fi
The Skills Quiz: Test your amateur radio knowledge, just for fun. Clive G1EUC will be quizmaster as ever
Representatives from CARS, Essex Repeater Group, Essex CW Club and Essex Ham will be on hand to help with questions
The above list is subject to last-minute change.

The Skills Night is an initiative from the CARS Training Team, and is supported by Essex Ham.
The Skills Night is free to attend, with refreshments provided. The event is open to all regardless of licence level and club affiliation – If you know someone interested in coming along – please pass this message along.
We hope to see you on Monday from 7pm.
[widgets_on_pages id=x]
Skills Night Links: