This coming Monday, the 20th of April is the next Skills Night, hosted by the Chelmsford Amateur Radio Society.
Skills Nights continue to be very popular with amateurs and SWLs from Essex, Kent, London and beyond, who come along to Danbury for the well-established mix of hands-on demonstrations, activities, show-and-tell, tea and chat.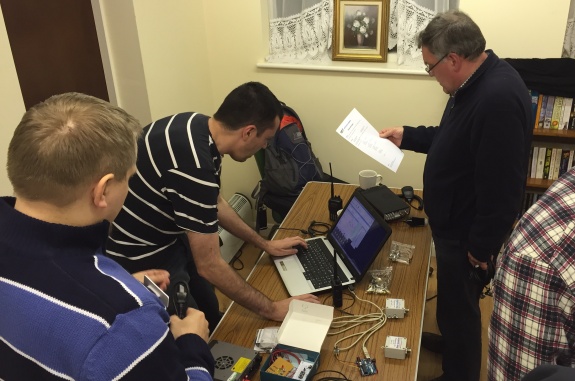 If you've been along to a Skills Night before, you'll know that the team aims to bring you a good mix of demonstrations, an opportunity to ask questions, and plenty of time to chat and swap ideas. If you've not visited Skills Night before – come along… there's no charge, and all are welcome – this is not a closed-door, members-only event.
Here's what's in store for the April 2015 Skills Night:
Construction: In a first for Skills Night, you'll have a chance to construct your first 2m or 70cm Slim Jim antenna. Cost of materials will be £6.50 (compared to a £20 retail price). Peter M0PSD will also be able to help with cable repairs, connectors and soldering
Ask Jim: New to the hobby? Got a question? Ask Uncle Jim in the Skills Night Beginners Corner
Radio Programming: Charlie M0PZT will be happy to help programme repeaters into a range of handhelds (Baofeng/Yaesu especially) and FT-817 plus 857/897 (bring your DC cable).
CW: Essex CW Club will be there to represent all aspects of Morse – Please pay Steve G4ZUL and Rob M0KCP a visit
EchoLink: Fancy giving EchoLink a try, either from your rig or via a computer? Jim2E0RMI will be on hand to demo this mode
Raspberry Pi: Following his successful talk at CARS in April, Peter G0DZB will be bringing along something Pi-flavoured
Arduino Projects: Charlie M0PZT returns to demonstrate more of his latest projects and ham goodies, and to help with data and logging questions
Data Mode Demos: Essex Ham will be demonstrating popular data modes, offering some getting started guides, and providing the wi-fi
Display badges: Nick M0NIB plans to bring along a few goodies, including the scrolling name and callsign badges that you may have seen him sporting at previous events
Callsign badges: Jim 2E0JTW returrns to make your analogue non-scrolling callsign badges!
Antenna Advice: Need some help with setting up the perfect antenna? Come and chat to Carl G3PEM for some top tips and advice.
Quiz: Test your amateur radio knowledge, just for fun. Clive G1EUC will be quizmaster
A Hustler HF vertical 4BTV will be on sale (offers over £40, SK item)
Representatives from CARS, Essex Repeater Group, Essex CW Club and Essex Ham will be on hand to help with questions and advice
Representatives from CARS, Essex Repeater Group, Essex CW Club and Essex Ham will be on hand to help with questions
The above list is subject to last-minute change.

The Skills Night is an initiative from the CARS Training Team, and is supported by Essex Ham.
The Skills Night is free to attend, with refreshments provided. The event is open to all regardless of licence level and club affiliation – If you know someone interested in coming along – please pass this message along.
We hope to see you on Monday from 7pm.
Skills Night Links: