Ordinary Cadet Joseph Cameron of the T.S. Dragon – Thurrock Sea Cadets was delighted to receive his pass certificate last week from his commanding office Sub Lieutenant (SCC) Russ Calver RNR for his Intermediate level amateur radio licence.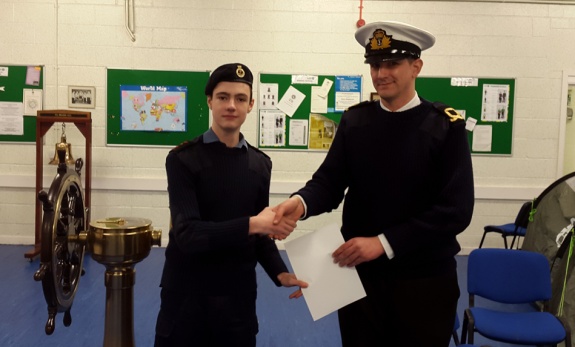 To pass the exam, that took place at the St John Hall Grays, Joseph had to demonstrate to approved assessors from the Thurrock Acorn Amateur Radio Club that he could complete some practical exercises which included the building of an electrical project, demonstrate it working and show how to take certain measurements using a digital multimeter. Once he had passed the practical section he had a theory exam to complete the exam process. The theory exam was overseen by a member of the Rotary Club of Grays Thurrock Glyn Jones.
At the sea cadets, they teach skills based on the customs and traditions of the Royal Navy using nautical adventure and fun geared towards kids and young adults from the age of ten up to the age of 18. The activities offered included in the portfolio are sailing, powerboating, seamanship, Duke of Edinburgh award from bronze to gold, rowing, cooking, navigation, cook stewardship, first aid and communications to name but a few. The amateur radio syllabus is very similar to the sea cadet's radio syllabus and the gaining of the Intermediate licence will help as he works though the sea cadets progress scheme.
Sub Lieutenant (SCC) R Calver RNR said "He had every confidence that Joseph would pass the exam and was delighted to present the pass certificate"
Anyone wishing to know more about the sea cadets should contact Petty Officer (SCC) Mark Witham at xo@thurrockseacadets.org
For more details about training with the Thurrock Acorns Amateur Radio Club, go to  www.taarc.co.uk
Related Links
Thanks to Thurrock Acorns for submitting this story, and well done to Cadet Joseph Cameron from all at Essex Ham