A quick reminder that this coming Monday, the 18th of January, is the first Essex Skills Night of 2016. The event is hosted by the Chelmsford Amateur Radio Society Training Team.
The Skills Nights continue to be one of the most popular gatherings of radio enthusiasts in the area. It's free to all, and everyone's welcome – no need to be a member of any club to attend. Skills Nights are informal get-togethers where you can discover something new, mingle, share ideas and talk about the hobby.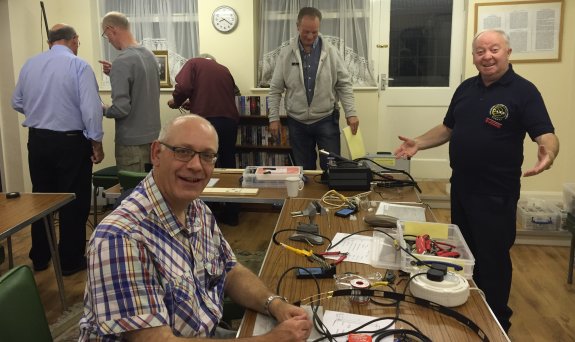 Here's what's in store for the January 2016 Skills Night:
Construction: Members of the CARS Training Team will be on hand to help with patch leads, antenna or project. If you need some advice on construction or soldering, or you need access to tools, go and see the Construction team.
Digital Voice: Interested in getting started with DMR or D-Star? We're hoping to be joined by Paul G7BHE, who'll be demonstrating these two popular digital voice modes. Find out if DV could be the future.
Radio Programming: Charlie M0PZT will available to set up your handheld. Baofengs, Yaesus and other Chinese handies a speciality, plus rigs such as the FT-817, FT-857 and FT-897. Please bring along the radio's power cable. Also, check out programming cables and ham essentials such as coax adapters, RTL dongles and other handy items as seen on Ham Goodies
DMR CodePlugs: With the new Regional TalkGroup changes to the DMR network, there'll be the opportunity to have your TYT MD-380 checked and updated.
Antennas and Antenna Modelling: Andy G7TKK returns with modelling software, and ideas.
Datamodes/Logging advice: Interested in logging or getting started with data – Laptops loaded with Ham Radio Deluxe, JT65, WSPR and other software will be available for demo.
Morse and More: Meet the team from the Essex CW Club, and learn more about their mode of choice. The team aims to be running a live HF CW station
Essex Ham: Getting Started advice and leaflets, the new Raspberry Pi Zero in action, our 2015 catch-up video, and some show-and-tell. We're also providing the event's wi-fi
Chelmsford ARS: Ray M6GVE will be on the CARS table where you can join the society, find out about upcoming training and events, or pick up some CARS merchandise and leaflets
Quiz: Chris G0IPU challenges you to answer some ham radio questions, just for fun
As usual, representatives from Essex Ham, CARS, the Essex Repeater Group, the Essex CW Club and Essex RAYNET will be on hand to help with questions you may have.
The above list is subject to last-minute change.
If you've been along to a Skills Night before, you'll know what to expect – the usual mix of demonstrations, show-and-tell, construction, plus the chance to chat, ask questions and swap ideas. If you've not visited a Skills Night before… why not? Come along! It's a friendly event with free tea and coffee where you can come along and learn more about the hobby. All are welcome, there's no charge, and you don't need to be a member of any club to come along.
Images from previous Skills Nights
[slideshow_deploy id='11300']
The Essex Skills Night is hosted by the CARS Training Team, and is supported by Essex Ham. The Skills Nights are free to attend, with refreshments provided. The event is open to all regardless of licence level and club affiliation – If you know someone interested in coming along – please let them know and bring them along.
Skills Night Links: