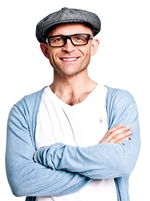 Gadget lovers will be familiar with the name Jason Bradbury, the presenter of Channel 5's Gadget Show. What many of you may not know, is that Jason is a radio amateur. His busy work schedule means that he doesn't get a chance to put out many CQ calls, but he's still very passionate about the hobby.
We caught up with Jason, whose callsign is 2E0JAB, at this year's Gadget Show Live Christmas event in London. Rather than asking about Jason's favourite tech gadget, we spoke to Jason about amateur radio and how it's helped with his work on TV.
Here's a YouTube clip of Pete M0PSX and Kelly M6KFA, two of the Essex Ham team, talking to Jason for the tech podcast FrequencyCast:
Ham Radio Helped TV Career
As part of his role as presenter of the Gadget Show, Jason's often required to construct gadgets or assemble bits of technology, and the knowledge gained as a radio amateur has helped Jason's TV career:
"I use my radio amateur knowledge all the time. Building all that stuff over the years as a radio amateur is what really got the job here."
A hectic work schedule and a busy family life means that Jason's too busy to spend much time with the hobby, but he will return to it, to get his family involved:
"It's really important for my two sons to understand radio – it's the basis of everything. Any modern gadget really involves all of the components that you learn about when you do your radio licence"
Like many of us in the hobby, it's easy to dive into amateur radio and let it take up lots of free time. Jason admits to being something of a fan of the hobby:
"I was obsessed with it – I had loads of different aerials on my roof… I had a G5RV and all kinds of other things for the different bands. I loved it … it was brilliant."
It's great to know that amateur radio has helped Jason's TV career, and that he's still a positive supporter of the hobby – Thanks very much to Jason 2E0JAB for taking the time to chat about his experiences as a radio ham:
You can find other features recorded by Pete M0PSX and Kelly M6KFA at www.frequencycast.co.uk – and amateur radio is often featured in their shows – have a listen.
Related Links: