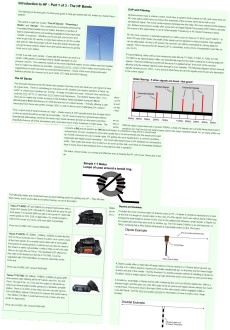 Many thanks to Chelmsford-based Charlie Davy M0PZT for his latest contribution to Essex Ham: Introduction to HF
This is a three-part series of articles aimed at newcomers to the hobby looking to make the move to HF, which we know from experience can be a minefield to newbies looking to make the move into worldwide DX.
All three articles can be found here: www.essexham.co.uk/introtohf
Pitching an article at those with little or no HF experience is always a tricky business, but these three articles written for Essex Ham cover the topic in a simple and logical order, as follows:
Part 1 – The HF bands: What you can expect from each band, and an introduction to the world of DX
Part 2 – Transceivers: Some ideas on what to look for when buying your first HF rig, a tour of some of the less familiar controls, and some candidates for that first HF rig purchase
Part 3 – Aerials: The longest of the three features, but with aerials, BALUNs, feeders and antenna suggestions to cover, it needs to be
The three-part guide has been added to our new Getting Started Guides section, where you can find a range of material aimed at newbies to amateur radio, including information on how to set up QRZ and eQSL, as well as using EchoLink and some of the data modes. This section is part of our ongoing commitment to helping get new operators into the hobby, and to stay active in amateur radio.
One-page PDF files of Charlie's "Introduction to HF" series are being prepared at the moment, which we hope will make it easier to print out and read the basics on how to get started in the world of amateur radio.
For more words from Charlie, and details of his amateur radio software, go to www.m0pzt.com, or follow him on Twitter @M0PZT
If you've got a suggestion for a Getting Started Guide, please get in touch, or complete our Foundation Next Steps Survey.