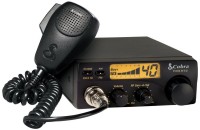 Although not a piece of amateur radio news, we thought that some of our readers might be interested in a little UK CB radio news, which was confirmed today.
Following a recent consultation, Ofcom has today released a summary statement regarding use of CB radio in the UK. It's expected that from next year, AM will be allowed CB on 27MHz (11 metres)
CB radio was legalised in the UK in 1981 on 27MHz using FM. CB in the US uses AM, making US imports largely illegal. At the time, the licence cost £15 a year (no exam needed). The licence requirement was dropped in 2006. The system remains on 27MHz FM, with a maximum power of 4 watts.
Today's announcement from Ofcom states that the proposal to allow the use of AM (double sideband and single sideband) has been accepted. 275 responses were received as part of the consultation, with 260 being in favour of the proposal, and it's expected that the changes will come into force from mid-2014, when AM is likely to be allowed on the CEPT frequencies (26.965MHz to 27.405MHz). Ofcom proposes to limit the maximum effective radiated power for AM transmission on CB radio to 4 Watts (double sideband), and 12 Watts for SSB modulation.
You can find the full statement here: Ofcom: CB Radio – Authorising AM
The 12 page PDF is worth a quick read, just to see how the consultation was handled, and some of the responses received. Facebook has played a part in the proposal's success. Some of the objections to the proposal cite concerns about the technical knowledge of CB operators, and in response, Ofcom states that it does "not propose to introduce a requirement on CB users to undergo training or demonstrate a defined level of technical competence. We do not believe such provisions are necessary, and would also potentially contradict its hobbyist status."
There's also an intriguing suggestion regarding the possible introduction of Morse – CW on CB, anyone?
Any Essex Hams still using CB? Anyone have any thoughts on what difference 12 watts SSB on 11 metres will make to CB, and the pastime of 'freebanding'?
Also, how do Foundation licence holders (limited to 10 watts on 10 metres) feel about users of 27MHz getting 12 watts without a licence or an exam? Can we expect these changes to make any difference to CB and/or amateur radio? Please add your comments below.
Thanks to John Bowen G8DET from CARS for flagging up today's Ofcom announcement
Related links