Essex-based radio ham Tim Neobard M7TMN has received a British Empire Medal in the Queen's Birthday Honours List.
Tim, together with other volunteers created the East Essex Hackspace – a maker community in Hockley, and at the height of the Covid pandemic, Tim and the team manufactured 12,000 face shields using the Hackspace's laser cutter – and these face shields were distributed free where they were needed. During the second lockdown, the team shifted focus to providing laptops for kids during the second lockdown.
In recognition of the work, Tim has been awarded a British Empire Medal for services to the community in Rochford, Essex.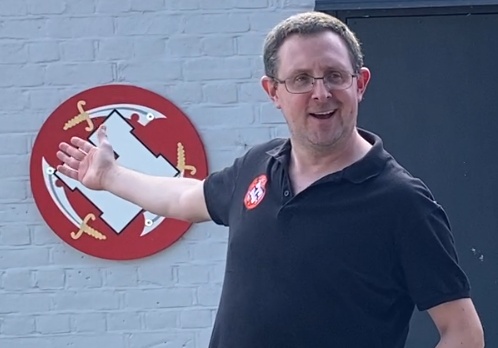 Interviewed on BBC Essex today, Tim said that during lockdown, he could see that the NHS was struggling and saw that face shields could be made using a 3D printer. They tried this, but each one took a day to print. One of the guys at the Hackspace had a laser cutter and they were able to cut 40 a day. Hackspace some crowdfunding and within 3-4 weeks, they had raised £11,000 – enough to buy a larger laser cutter. They were then able to make 300 to 400 a day, and send them out to hospitals, doctors' surgeries and care homes in the community.
The full interview was on BBC Essex on the 2nd of June 2022 – Listen on BBC Sounds – 02 June 2022 (Approx 9 minutes into the Dave Monk show)
The East Essex Hackspace launched in September 2021, and Essex Ham activated GB0EHH to support their launch. Since then, Essex Ham has activated the Hackspace several times, including a commemoration of 100 years of British Broadcasting– After seeing amateur radio in action, Tim decided to take the plunge, signed up to Essex Ham's Foundation Online course, took his exam from home, and became Tim M7TMN in April this year.
Our congratulations to Tim, who'll be receiving his British Empire Medal soon, and hopefully proudly wearing it at an upcoming amateur radio event at the Hackspace!
Related Links