The Amateur Radio Foundation Licence is a great starting point for entering the hobby, and it's hoped that those picking up an M3 or M6 callsign will want to progress on to Intermediate and then the Full (Advanced) Licence.
In the first week of January 2012, Pete Sipple M0PSX (one of the Essex Ham team) presented an overview of his journey from Foundation to a Full licence holder, at the first Chelmsford Amateur Radio Society (CARS) club night of the year.
As well as Pete's talk, the evening included a series of practical demonstrations, plus a talk from Mark Sanderson M0IEO on "what you don't learn on Foundation", including information on dummy loads, low-pass filtering and set-up and use of ATUs. A recording of Clive G1EUC's interview on BBC Essex was also played. A full report, plus images, can be found on the CARS website at www.g0mwt.org.uk
"Foundation to Full"
Pete's presentation contained a number of Internet links and software titles, and this section is for those looking for more information on the topics covered in the presentation.
PSK31
Here are the basics of the PSK31 Data Mode:
Created 13 years ago by Peter Martinez (G3PLX)
Uses 31Hz bandwidth
Approx 50 words per minute
No error correction
Uses a computer soundcard and an Interface
The demo was completed using the DigiMaster PRO CAT Interface (from www.g4zlp.co.uk) to connect between PC and rig, plus the Ham Radio Deluxe software package (from www.hrdsoftwarellc.com)
The website used to check how far your PSK31 CQ are going, is: pskreporter.info
WSPR
This stands for "Weak Signal Propagation Reporter", and allows you to see just how far a low power data transmission can get. Here's a little more about WSPR:
Uses Computer soundcard
Sends callsign, Maidenhead locator and power
Can decode signals with S/N as low as -28 dB in a 2500 Hz bandwidth
WSPR is free – Maps and software downloads are at wsprnet.org
We've written a review of how to use WSPR – Please see our Check Your Signal With WSPR guide.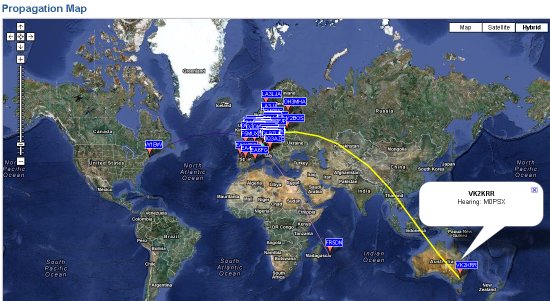 Receiving Satellites
For details of the amateur radio satellite network, and the current status of satellites, go to www.amsat.org
We've written a brief guide on how to receive amateur satellites: See Amateur Radio Satellites
The tracking software demonstrated by Pete was Orbitron, the free satellite tracking application, which is available from www.stoff.pl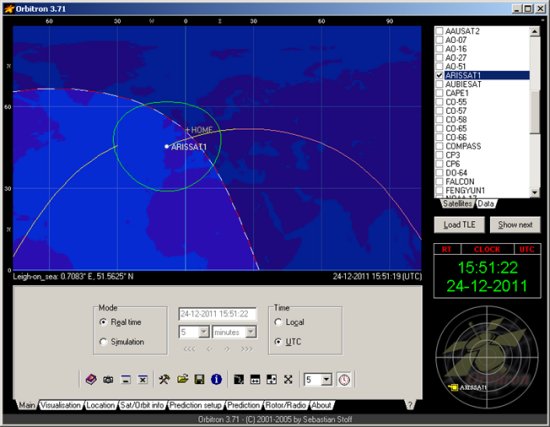 SSTV
The packages used to capture and display the SSTV images from the ARISSat-1 satellite was MMSSTV, which is available for free from http://hamsoft.ca/pages/mmsstv.php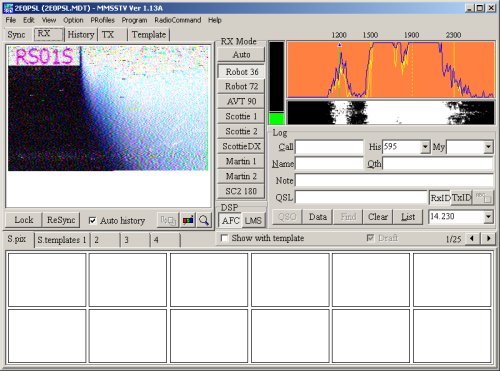 S.D.R
Another of the evening's acronyms – This stands for Software Defined Radio. With an SDR, the mixers, filters, amplifiers, demodulators, etc are all software, as opposed to hardware. They connect to your PC, and typically replace a radio's screen with your computer monitor, and use your PC's soundcard and speakers for the audio.
Common SDRs, such as the SDR-IQ, cost from upwards of £500. The unit that was demonstrated as part of the talk was the "FUNCube Dongle Pro", which covers 64MHz to 1,700MHz, and costs around £120. These are available from www.funcubedongle.com

Thanks to Murray G6JYB for finding an even cheaper SDR – The SDR from ELEKTOR costs just £85, and covers from 0.15MHz to 30 MHz.
If you'd like to play with an SDR without any outlay, you can use the Internet to control SDRs around the world – See Control SDRs worldwide at websdr.org (thanks to Tom M6BCK for the tip!)
Thanks to those of you who attended the CARS club night in January – We hope you found "Foundation To Full" of interest.