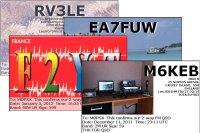 For many in the hobby, collecting QSL cards is a must – Once you've made that long-distance communication to a ham halfway round the world, getting a QSL card in the post to prove it, is a buzz, and a your first real QSL cards are your way of making your mark as an amateur… But how do you get your cards?
Should you wish, you can collect eQSL cards over the Internet (using www.eqsl.cc), but if you prefer the paper version of cards, then most hams make use of the Bureau.
What is the UK QSL Bureau?
In the UK, the RSGB runs the QSL card bureau, and a number of volunteers sort and distribute around 1.5 million QSL cards per year.
To send a QSL card via the UK bureau, you have to be a member of the RSGB. Until April 2012, UK amateurs could receive their QSL cards via the bureau, but from April 2012, there will be a small charge for non-members wishing to receive cards from the RSGB Bureau service. At the time of writing, the fee for the "QSL Receive Service" is £7.99 a year if you pay by direct debit.
You can find more details about how the Bureau works at www.rsgb.org/qsl
QSL Cards for M6 callsigns
Roy Taylor M0RRV is the RSGB sub-manager for the M6 callsigns, and cards sent to M6 Foundation Licence Holders will end up in his care until they can be forwarded on via Royal Mail.
To get your cards, you need to post off a stamped addressed C5-sized envelope to the sub-manager. This needs to bear your callsign in the top right of the envelope. You will also need to confirm your RSGB membership, or that you are signed up to the new "QSL Receive Service"
You can find the address to send your envelopes to, at www.rsgb.org/qsl/list-of-qsl-sub-managers.php
Waiting M6 QSL Cards
The M6 sub-manager Roy Taylor M0RRV offers a rather nice service to M6 callsign holders – An online database of waiting cards. If you're an M6, you can take a peek and see how many QSL cards are being held for you, and how many envelopes are registered.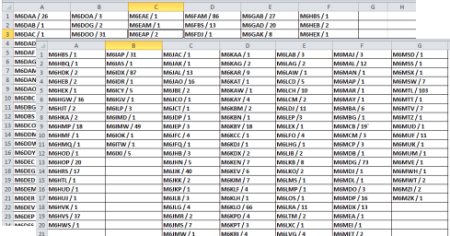 If you're an M6 licence holder and want to check on your waiting QSL cards, go to groups.yahoo.com/group/M6_QSL/ and sign up to the M6 QSL Group
Looking at the list, which is available as an Excel Spreadsheet, there are over 2,000 QSL cards for M6s that haven't been claimed. Although these will be kept for as long as possible, there is a chance that your valuable QSL card may be destroyed if not collected.
Please take a look, and if you want your cards, send in that envelope today!
Related links