Despite being the hottest day of the year so far, more people that we expected braved the hot and humid weather to come along to this June's Essex Skills Night. The evening, held on the 19th of June 2017, saws 42 people coming along to the Danbury Village Hall on the 20th of June 2017 for the usual mix of demos, clubs, chat and refreshments.
Here's our summary of the evening's event.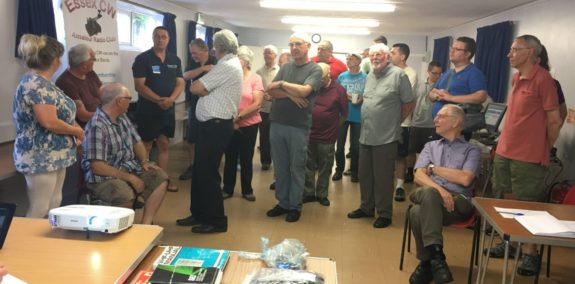 Radio Programming:
Thanks to Charlie M0PZT for being on-hand to program rigs for local repeaters. Charlie's created his own repeater files and codeplugs, and was able to help with setting up MD-380/RT3 DMR handies, most Baofeng/Yaesu FM handhelds, and some mobile Yaesu rigs. Charlie also had a supply of his handy laminated reference cards – great for newbies!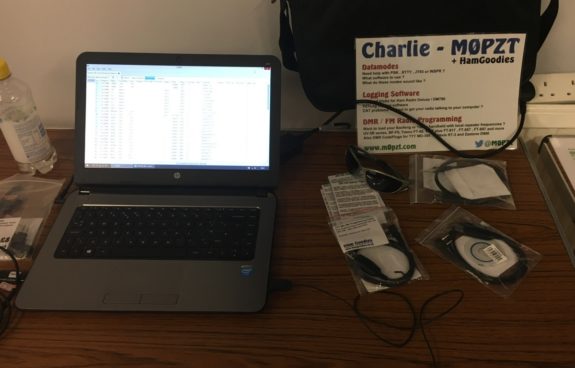 Testing, testing:
Mike G4NVT was on hand once again to help with testing. He brought along his Signal Hound USB-SA44B — 4.4 GHz Spectrum Analyser. Mike was joined by Ed G8FAX.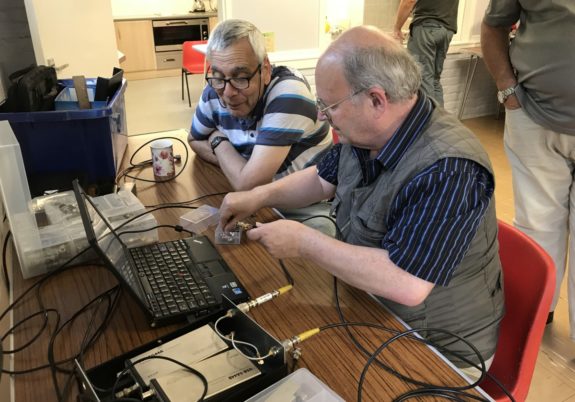 Essex CW Club:
Thanks to Dean G4WQI for manning the Essex CW Club's table and live CW station.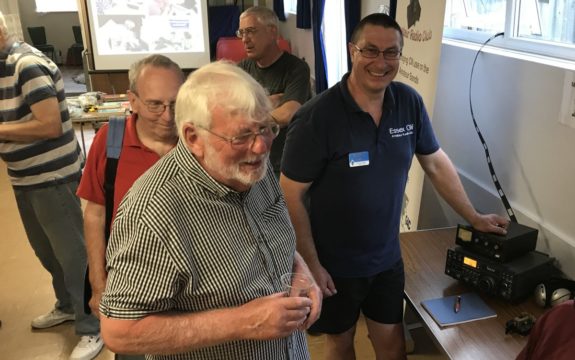 Essex Ham Getting Started:
This month, demos of three data modes, the RTL dongle, and a Windows 10 tablet ideal for logging in the field. Also, a review of recent Essex Ham activities played back on a £4 Raspberry Pi Zero.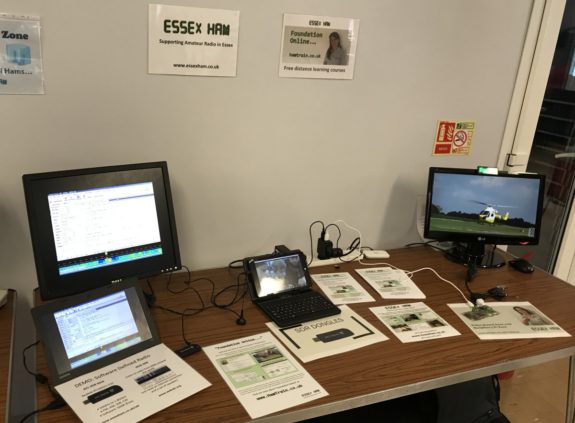 As it was such a warm night, we created a "Cool Ham" zone, and also offered our cool newcomers a range of free handouts from our collection of Getting Started Guides.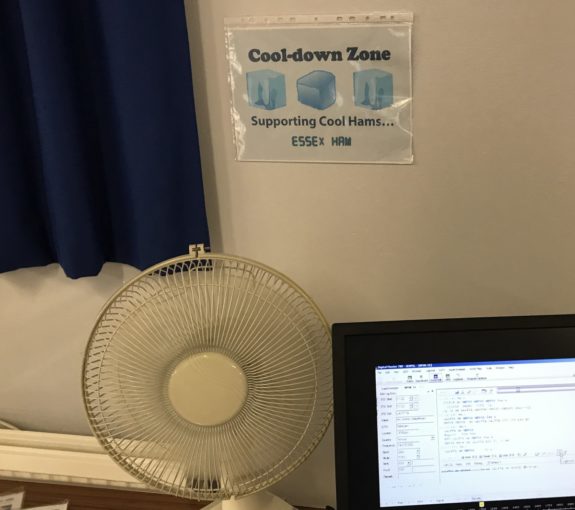 Callsign Badges and Pens:
Skills Night regulars Jim 2E0JTW and Glynis 2E0CUQ were on hand with their engraver to create callsign badges and gold-plated engraved pens on demand.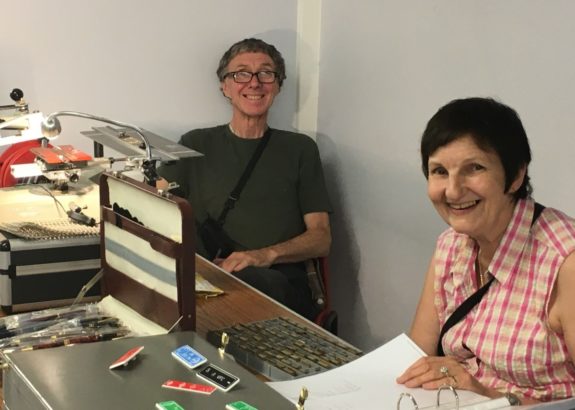 CARS Quiz:
This month's quiz was hosted by CARS Vice President Murray G6JYB – just for fun.
Auction:
The auction was run just after the Quiz, and despite some donations from Ed G8FAX, very few takers.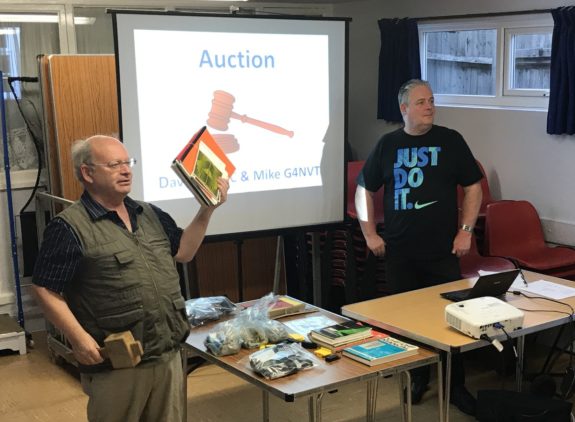 Monday Night Net Linkup:
Rachel G6AMY very kindly ran the Essex Ham Net on GB3DA for those not attending the Skills Night. Pete M0PSX linked up, relaying a few shouts from some of the attendees…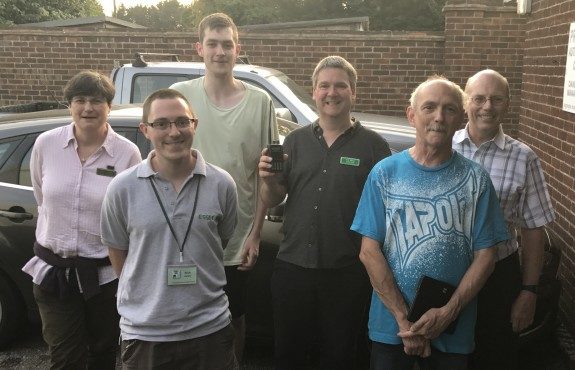 Handheld Car Adapters:
Many thanks to Alan G (taking his Foundation shortly) and Steve G8UDD for bringing along some freebies. Mounting handies, such as the Baofeng, in a car can be tricky – Steve has designed some brackets, 3D printed by Alan, to allow radios with belt clips to be connected to car smartphone holders. A popular freebie!
Logistics:
As always, a huge personal thanks to Myra and David for their continued logistical support in the kitchen providing the free tea and coffee. Also, to Essex Ham's Sarah M6PSK (the event's "dedicated greeter").
Skills Night Summer Break
As announced at the June Skills – Attendance in July & August is always pretty low due to summer holidays, so we'll be taking a summer break. No Essex Skills in July or August.
Thanks all, and 73,
Pete M0PSX
Event Photos:
[ngg_images source="galleries" container_ids="96″ display_type="photocrati-nextgen_basic_thumbnails" override_thumbnail_settings="0″ thumbnail_width="120″ thumbnail_height="90″ thumbnail_crop="1″ images_per_page="20″ number_of_columns="0″ ajax_pagination="0″ show_all_in_lightbox="0″ use_imagebrowser_effect="0″ show_slideshow_link="1″ slideshow_link_text="[Show slideshow]" order_by="sortorder" order_direction="ASC" returns="included" maximum_entity_count="500″]
Related Links