Many congratulations to the twelve successful Foundation candidates who achieved an indicative pass mark on this evening's Chelmsford Amateur Radio Society Foundation course in Danbury: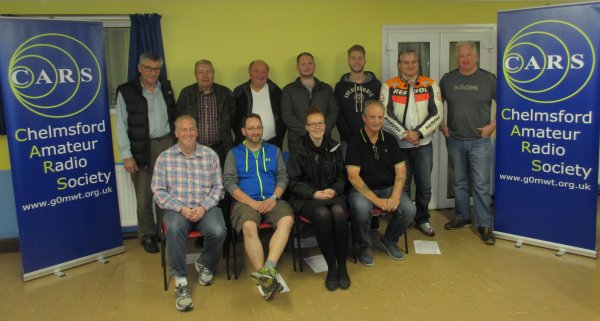 For the successful candidates, the wait begins for the official RSGB certificate before they're allowed to get their M6 callsign from Ofcom (See: How to get your callsign)
Well done to the training team at CARS for a great course, the 32nd Foundation offered by the Chelmsford ARS. This course saw the sad loss of Clive Ward G1EUC right at the start of the 6 weeks, which shocked all involved with the course, as well as the candidates who'd been in close contact with Clive in the run-up to the course. The course continued, and thanks to the hard work done by Clive in setting up a smooth-running training system, a good result has had tonight, and we can expect 12 new radio amateurs, trained in Chelmsford, to hopefully be hitting the airwaves soon.
Foundation Online
The evening was also a good result for those who'd opted to take Essex Ham's Foundation Online course, to help with their revision ahead of tonight's exam at CARS.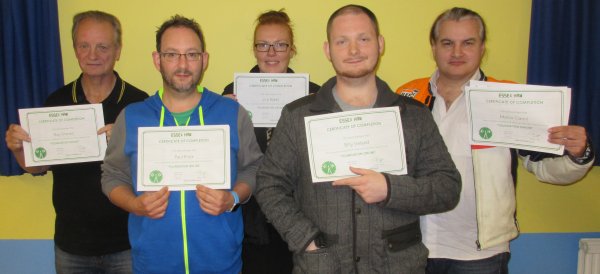 Thanks to all five of the online candidates for getting in touch with their thoughts on how Foundation Online helped with their revision:
I have to complement you on this on-line Foundation Course. It is an excellent revision aid and companion to the club course and practicals! …I did my mock Foundation exam last night at the CARS Club course week 5 and achieved 25 out of 26 i.e. 96%, which I would not have achieved if I had not done your on-line Foundation course! Many thanks for this great revision aid! Marco C
Thanks Pete… Great course! Paul K
I just wanted to say a massive thank you for training and assisting me in my foundation course. I wouldn't of been able to complete the course without your help Lisa B
Firstly, thanks for the online module, by far the best aid. Billy I
Am enjoying the course and thank you for the time and effort you are putting into it. Ray S
Great to know that the online notes, videos, tests and handouts have been of help, and well done for completing the various online modules.
It also shows that students often benefit from using alternative sources of revision aids in addition to traditional "chalk-and-talk" presentations – we're keen to make our material available free to all training groups if it helps to provide a handy supplement to existing amateur radio training schemes.
A great result for the CARS Training Team – and some very happy future amateurs!
Related links