For the first time, and as requested by some of our regulars, Essex Ham had its first table at the Canvey Rally 2015. For our full report on the event, see our Canvey Rally 2015 Review.
On this page, you'll find a quick summary of what Essex Ham was up to at this year's rally.
For Essex Ham, today wasn't about selling anything, trying to get people to sign up for anything or even really promoting what Essex Ham does – it was a mix of demos, advice and a fixed spot for people to chat… which lots of people did!
It was an early start for most of those involved with the Canvey Rally, especially for the team at SEARS who had to set up the tables and help the traders get into position before the 10:30 public opening.
A huge thanks to Nick 2E0DVX for his hard work helping out on the Essex Ham stand. An early start for Nick, and a long day behind the stand. The Essex Ham table was staffed by Nick 2E0DVX and Pete M0PSX, who were demonstrating a wide range of amateur radio items, including:
We weren't selling anything at the stand, as that's not why we were there – but some of the things on display can be found in Essex Ham's new page of recommended Amazon products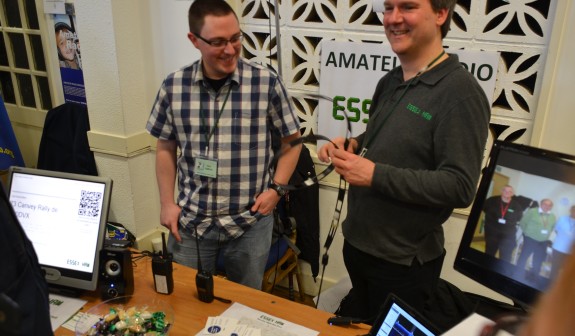 Nick's impressive Morse Message demonstration was in operation – by scanning a QR code, or going to a website shortcode, you could enter a message and it would be played out at the rally in CW. This was last used at November's Southend Raspberry Jam. Those not at the rally were also given the opportunity to send a message to be heard across the hall – many took advantage of this, including Mitchell 2E0EMO, Trevor M5AKA, Tom G4VXE, AK4PE and a few others.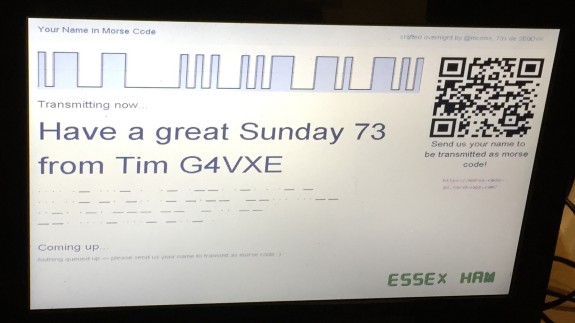 We'd like to thanks everyone who came over to chat to us – Lots and lots of familiar faces and voices, and more than a few kind words about Essex Ham too – always great to hear your feedback and discuss new ideas to help promote the hobby.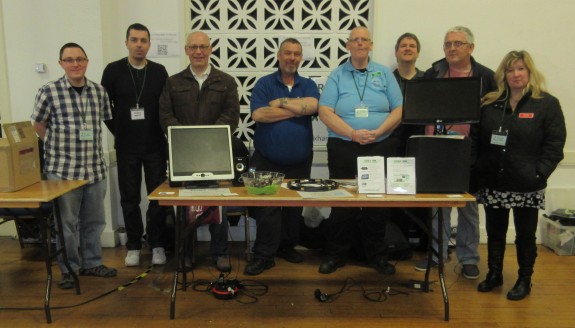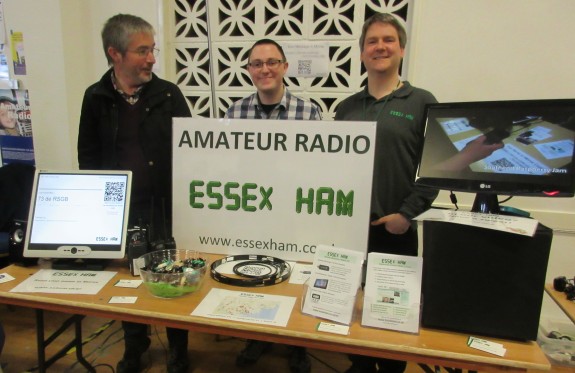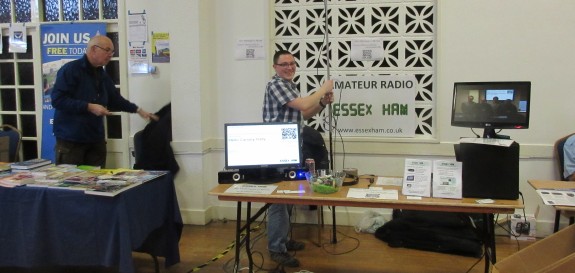 Scrolling Video
Our scrolling video created some interest – 2014 was a very busy year for amateur radio in Essex, and the six minute looped video highlighted some of the activities of groups including the South Essex Amateur Radio Society, the CARS Skills Night team, the Thurrock Acorns, Dengie Hundred ARS and Essex RAYNET. It also shows many of the activities run or supported by Essex Ham.
We offered a free sweetie to all those featured in the video (and one to those who weren't. If you missed the video, here it is:
Amateur Radio in Essex 2014 Montage
Canvey Rally 2015 Video Review
Here's our 4 minute video review of our day at the 2015 Canvey Rally:
SEARS Canvey Rally 2015 Video Review
It was great to be a part of the 30th Canvey Rally, and to catch up with so many people. We hope everyone had as good a time at this year's rally as we did – and well done to SEARS for doing much a good job.
Related Videos:
"Your Name in Morse", by Nick 2E0DVX (Nov 2014)
Related Links