This is our first look at the bargain Linx Windows 8.1 7″ touchscreen tablet, and how this could be used for amateur radio…
Thanks to Essex Ham member Charlie M0PZT for first spotting this little gem, and to Essex Ham member Nick 2E0DVX for taking the plunge and buying one to try out.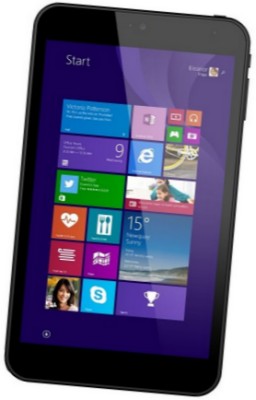 This is a very cheap, and very capable tablet that runs the full Windows 8.1 operating system – this means that you can potentially run your favourite ham radio PC desktop applications on a low-price tablet device in the field. This opens the potential for PSK31, JT65, WSPR data modes, as well as PC logging apps, SDRs and all sorts.
The price? When discovered, these cost £69 at Staples online – This has now gone up to £79, but is slightly cheaper on Amazon, and £20 cheaper on eBay – At the time of writing, £60!
Linx 7″ Tablet Spec:
7″ touchscreen (8″ and 10″ also available)
Windows 8.1 Operating System
1.33GHz Intel Atom processor
16GB or 32GB Storage ; 1GB RAM
Connectors: Micro USB ; HDMI
Micro SD card
1 year's Microsoft Office 365 subscription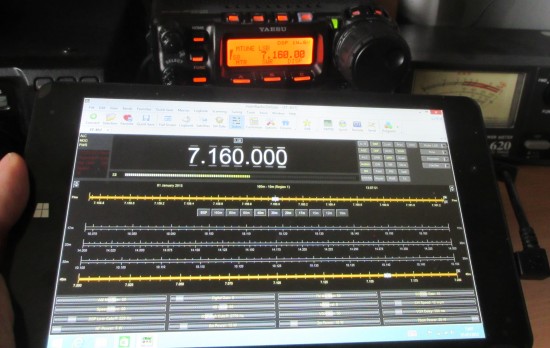 Linx for Amateur Radio – first impressions:
Thanks to Nick 2E0DVX for the following first impressions on what the Linx Windows tablet might offer for amateur radio:
Yes, it does accept microphone input on a 4-pole jack, so Digimodes a possibility
No, you can't charge it and use USB at the same time, even with a splitter
Installed fldigi and sent PSK31 from my Mac to the tablet over built in speakers/mic, works fine
Managed up to 12xPSK125 multicarrier, and 1xPSK1000 no problem
It runs SDR# with the RTL-SDR dongle, and I could receive commercial FM & Southend Airport ok (actually very impressed)
Runs EasyPal SSTV, seems to work ok
Linx 7″ Tablet – First look by Nick 2E0DVX
On the USB point, this means CAT control/PTT either needs a Bluetooth/serial device, or some form of hardware mod to add a power jack, unless you're happy running on battery power. The case clips together, so haven't looked under the hood yet to see if that's sane.
For me, it doesn't really suit home rig control (so I've ordered a RPi B+), but it would be a good toy for portable digimodes, or APRS with a Bluetooth TNC; HDMI out is a nice feature (so you could use it for club night videos/projecting demos).
I'll probably keep it for logging, and it's nice to have the option of Windows (although it's only 32bit OS, despite the 64bit proc). Would be a good machine to program handhelds with, and does work with both FTDI and Prolific cables.
Not as fast or usable as my iPhone, but not noticeably slow either, and 1/10th the price makes it respectable enough. Comparable performance to a cheap Android tablet, and fast enough for SDR/digi + multitasking.
So all in all, if you've got a use for it, and will only use the USB port occasionally, I don't think it'll disappoint for the money
Thanks to Nick 2E0DVX for this first look!
More on the Linx Tablet
Essex Ham now has one of these – Pete M0PSX opted for the slightly larger 8 inch version. Here's his findings so far:
This is a very nifty little tablet. It's the full Windows operating system, not a cut-down tablet version, and it's pretty impressive, given the price tag. Those not a fan of the sliding tile interface of 8.1 can shell out to the desktop, and effectively you're on a PC. I've mine for less than 24 hours and have already got it to do the following:
Control a Yaesu FT857 using Ham Radio Deluxe
Do some PSK31 using DigiMaster
Decode JT65 with WSJT
Send and receive APRS using UI-View
Run SDR# with the £10 Realtek dongle
Stream some video to our telly from a NAS drive
Connect and run a Powerpoint presentation on our overhead projector using HDMI
Very impressed so far!! Anything you'd like Essex Ham to test? Add a comment below…