Thanks to SEARS and to Dave M0TAZ for laying on an excellent evening for this month's club night on Tuesday the 13th of Feb 2018.
Following tea, biscuits and a few housekeeping announcements, Dave dived into this chosen topic for the evening, "data modes"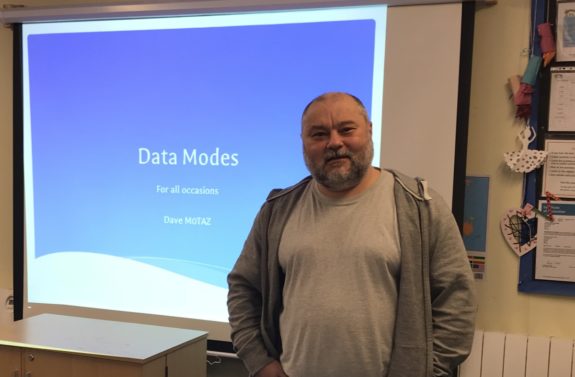 Dave's talk started with an introduction to why data modes have their place – great for making contacts when there's a high noise-floor, where voice isn't possible, or where there are power or antenna limitations. Dave then explained the requirements for connecting radio to PC, and then moved onto the various modes and software.
I won't provide a detailed summary of the talk here, because Dave has very kindly offered SEARS access to the slides used for his talk. As soon as the slides are available on the SEARS site, I'd certainly recommend anyone with a passing interest in data modes to get a copy and have a read-through.
I've been using data modes for many years and was still able to learn several tricks and tips from the talk. I'm guilty of not making use of RSID, an option to transmit an identifier to explain to anyone listening exactly what mode and format I'm about to be sending. I've seen the option in software, but never used it. Thanks for the tip Dave.
Dave covered all of the modes in a perfect amount of detail for the newcomer to data, discussing PSK31 (which many don't realise was created by Peter Martinez G3PLX back in the late 1990s), WSPR, the various JT varients (including the currently popular FT-8), also touching on SSTV, RTTY, Olivia and several others.
Towards the end of the talk, Dave covered a mini project – Working JA on 10 watts.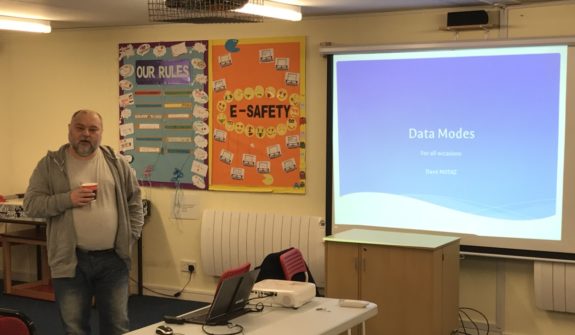 For more on Dave and his amateur radio activity, see the M0TAZ website, or follow Dave on Twitter @m0taz
Run a club in Essex? Dave is one of the local speakers who's offered his services to talk at amateur radio clubs in the area, and having heard a couple of Dave's talks now, I'd highly recommend him as a great speaker. For details of the talks that Dave offers, see our Essex Speaker's Directory.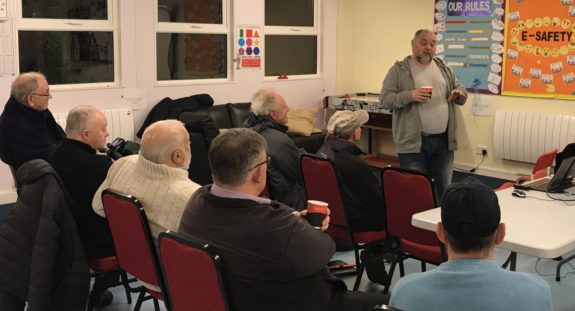 Good to catch up with Dave post-talk too. We've both been helping a Southend-based amateur who's been having trouble with PSK31, and Dave kindly sanity-checked a "datamode troubleshooting guide" that I've been working on to help those struggling with data mode problems – not always easy to resolve.
A very good evening, and great to catch up with the friendly folk at SEARS. Next month's talk is on the subject of computer logging, looking at the LOG4OM software, courtesy of Terry Genes G4POP
Pete M0PSX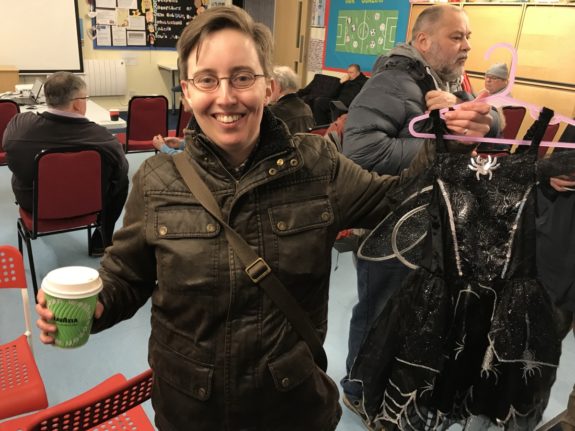 Related Links
Data Mode Links
Involved with a club in Essex? We can help to promote your club's event to the amateur radio community. Send us your events news, and we'll help to promote your event to amateurs from across Essex and beyond. If your club's events aren't being featured, get in touch with Essex Ham, or find out more about how Essex Ham supports local clubs.