On this page, you'll find a step-by-step guide on how to program the Baofeng UV-3R.
This tiny little 2W dual band handheld amateur radio transceiver is a cracking little radio for the price (costing a little under £30 from the Mega409shop on eBay). See our Baofeng UV-3R Review.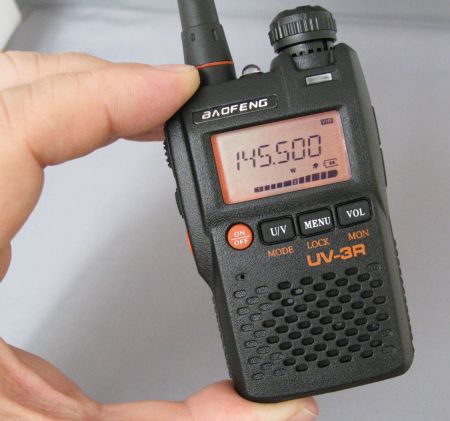 Setting up the UV-3R for GB3DA
Due to the size of the radio, there's no keyboard input. The manual with this radio is surprisingly usable (compared to other low-priced Chinese radios), so setting the radio up for repeater access is fairly straightforward.
It's also possible to program the radio from a PC, using an optional programming lead – see our programming a Baofeng UV-3R from a PC guide.
If you're in the Essex area, you'll probably want to program access to the Danbury GB3DA repeater. This is fairly straightforward.
Here's how to get access to GB3DA from the radio's controls:
Set the radio into VFO (tuning) mode by holding down the U/V button for a few seconds. Make sure there is no memory preset number shown in the top left.
Use the rotary dial to select the repeater output of 145.7250 (Note that you need to pull the rotary dial up to 'unlock' it, so you can turn it left and right)
Set CTCSS: Press 'Menu', twist the rotary dial to 'TXCODE [2]' and press 'U/V'. The code is initially set to "OFF'. Twist the dial clockwise to '110.9'. Press 'U/V' to save
Set Repeater Offset: From 'Menu', twist the dial to 'OFFSET [10]'. Press 'U/V'. Twist dial to '00.600'. Press 'U/V' to save
Set Repeater Shift: From 'Menu', twist the dial to 'SHIFT [11]'. Press 'U/V'. Twist dial to the minus sign. Press 'U/V' to save
Set to Narrow Band: From 'Menu', twist the dial to 'W/N [13]'. Press 'U/V'. Twist dial to 'Narrow'. Press 'U/V' to save
That should be it. The display should look like this: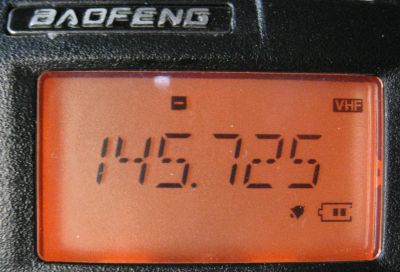 The final step is to save this to a memory preset for easy access:
Press the 'F/A' button (below the PTT)
Press the 'U/V'. You should see a flashing preset number on the top left
Use the rotary dial control to select a free preset
Press 'U/V' to save the setting
To get the radio into memory preset mode (for recalling a memory), hold down the 'U/V' button
Related Pages