It's always handy to have a spare 2 metre handheld radio, and I've just got myself the low-end Moonraker portable. If you're interested, I've just written a review, which you'll find here: Moonraker HT-90E Review
The manual is a little basic, and as setting up repeaters on handhelds isn't easy at the best of times, I thought a "how-to" might help.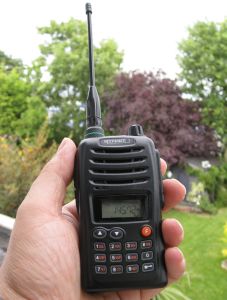 Programming the Danbury GB3DA Repeater
Here are the steps that I used to get the HT-90E so that it can work the GB3DA Danbury 2m repeater:
Enter Receive frequency: Switch on the radio and type 145.725 for the output of the repeater
Set the Repeater offset: Next, you need to set the Repeater offset, which is 600kHz. This is not the radio's default setting! To set, press F 9. Use the arrows to get to option 4 "Diffr", then press the F button. Type in the offset as "00.600". Make sure you enter the two zeros after the 6, even though it's not displayed on screen. You get a longer beep after the last two zeros. Then press F to save
Set the Repeater offset to Minus: Press F 5 until you see a minus sign in the top right of the screen. See the screenshot below. F 5 scrolls between +, – and blank
Set the CTCSS tone: Press F 8. Then use the arrow keys to scroll to 110.9. Once there, press F to save. On the display, there should now be a small speaker icon (which is the CTCSS icon). See screenshot below
That should be everything set.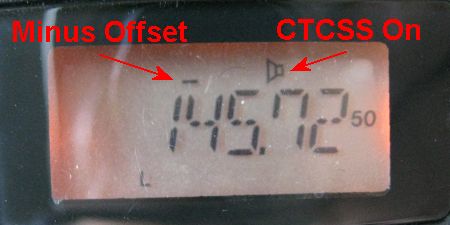 Want to save this to a memory? Set up access (as above), then do the following:
Press F and the * key. The memory preset number will flash to the left of the frequency. Use the Up / Down buttons to get to a numbered preset and press F to save
Related links