The Quansheng TG-UV2 is a powerful little 2metre / 70cm handheld amateur radio. It's gaining in popularity due to its very low price.
It's a great radio, let down by only one thing – it's tricky to set  up (not helped by the poorly-translated Chinese-to-English manual)
I've had a couple of conversations with other amateurs about this device, and the trick appears to be to use a PC to program the radio, as the PC interface is more intuitive.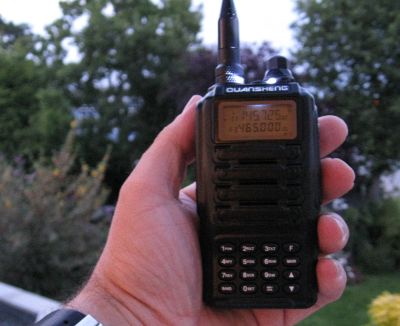 Programming the Quansheng TG-UV2 from a PC
You'll need a special lead. It's a Kenwood USB Radio Programming Lead. Bought from a UK dealer with software, expect to pay £20. Far cheaper to get the lead on eBay (for £5) and  download the software for free. Kenwood USB Programming Lead on eBay
I ordered one from Hong Kong, and it turned up within about 10 days. I've added a "how-to" page: Programming the Quansheng TG-UV2 from a PC
Program in the Danbury GB3DA Repeater Manually
If you're operating in Essex, being able to access the Danbury Repeater GB3DA is a must, but programming repeaters can be tricky. The TG-UV2 manual is unhelpful, but I've been able to set my Quansheng TG-UV2 set for use with DA as follows:
Enter Receive frequency: Switch on, and type 145.725
Set the Repeater offset: Press F then 0 then 2  to get to the repeater offset setting. On the top line, enter "00.600" (600kHz). Then press the MR/VFO button. Then press PTT to get back to standby
Set the Repeater offset to Minus: Press F then 4 until you see a minus sign in the top right of the screen. See screenshot 1 below. F4 scrolls between +, – and blank
Set the CTCSS tone: Press F then 3. You should see "TC OFF" (Transmit Code off). Now, press the BAND button to scroll through the tone types until you get to "TC" with a number (e.g. TC. 67.0). Then use the Up arrow to select "TC110.9". See screenshot 2 below. Then press MR/VFO to get to standby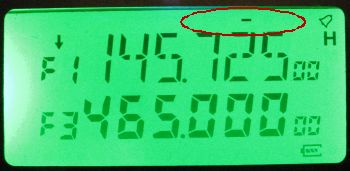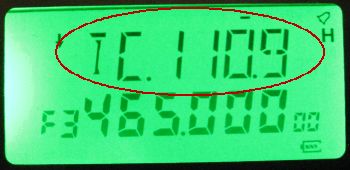 Want to save this to a memory? Set up access (as above), then do the following:
Press F then MR/VFO. The screen says "SAV"
Use the Up and Down arrows to pick a memory number
Press MR/VFO to save. Screen says "SAVE?".
Press MR/VFO to confirm the save
Related links