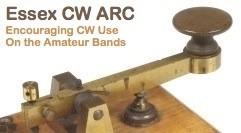 An announcement from the Essex CW Club about a proposed Morse "Boot Camp" set for later in 2017:
Essex CW ARC Boot Camp Survey
=============
The club is considering putting on a CW 'Boot Camp' later this year. Features would include:
Morse for the complete beginner
Morse progression
Morse for the faster operator
Contest techniques and programs
Twin Paddle operating
Taking the RSGB morse test
Supervised on-air operation for the novice.
The event would take place on a weekend day in the last quarter in Witham.
We would like to assess the interest before making any final decisions. To this end, we have enlisted the help of Essex Ham, who are a good friend to ECWARC. A survey is available on their website to assess interest and gauge your particular areas of interest. Please assist us by completing the survey. It's free, confidential, and only takes a few minutes. You can find it at:
Many thanks for your help.
Kind regards and 73s,
The ECWARC Committee
Involved with a club in Essex? We can help to promote your club's event to the amateur radio community. Send us your events news, and we'll help to promote your event to amateurs from across Essex and beyond. If your club's events aren't being featured, get in touch with Essex Ham, or find out more about how Essex Ham supports local clubs.
Related Links