CW… Carrier Wave… Morse code… Call it what you will, it's an incredibly popular mode that has the advantage of getting through where voice and data might not.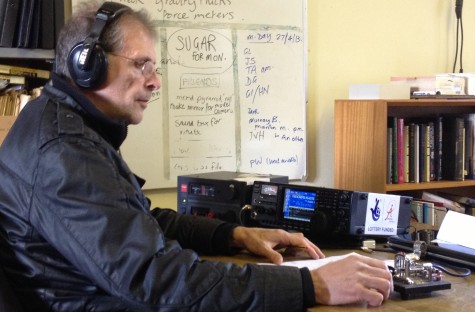 In Essex, we're very fortunate to have an active club that promotes all aspects of CW operation, as well as excellent Morse classes in Danbury, and on this page, you'll find some basic information on how to get started and where to look:
Essex CW Club
There's no doubt that this page should be your first port of call. The club has been running since 2009 and at the time of writing has over 250 members – Their site lists their very busy events calendar, information on the modes, details of their regular nets, and information on CW contests and competitions. Find out more at www.essexcw.org.uk
In July 2013, Essex Ham's Pete M0PSX caught up with Jonathan G0DVJ, one of the club's founders, to find out more and to get some tips on how best to approach the challenge of learning Morse. We also caught up with Andy G0IBN, who runs the CW classes in Danbury. Take a look at the following video to learn more:
Morse Classes

Andy Kersey G0IBN, as featured in the video clip above, teaches the Morse classes here in Essex.
These are held at the Danbury Village Hall in Danbury on a Thursday night – To find out more, visit the Chelmsford Amateur Radio Society's training page
Andy's an excellent (and patient) tutor, and although learning CW with the aid of a computer can be very helpful – there's no substitute to getting hands-on one-to-one experience and guidance when you're learning.
Foundation – Morse Appreciation
Foundation candidates are required to take a Morse Code Appreciation practical. If you're interested to know what's involved, check out the following YouTube clip:
More Information
We hope to add some links on useful programs and websites for those looking to get started. If you have any recommendations, please contact us