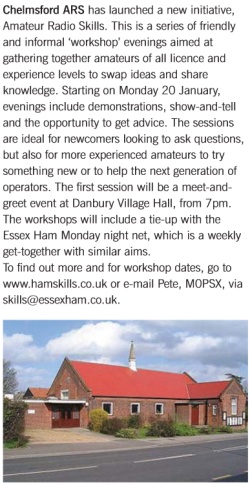 A reminder that Monday the 20th of January 2014 sees the first Amateur Radio Skills session take place in Danbury, near Chelmsford.
The event has been organised by the Chelmsford Amateur Radio Society and is an opportunity for amateurs to get together, share information, ask questions and to get hands-on with some demonstrations.
The first session gets a mention in the February edition of Radcom, which started hitting the mats of RSGB members in the next day or so. There's also a short write-up of the Braintree and District ARC Christmas get-together, with one of the more publishable pictures from their festive social night.
If you're interested in attending the first of the CARS Amateur Radio Skills workshops, make a note of the date – Monday 20th January 2014. It's at the Village Hall in Danbury, with doors opening from 7pm.
For more information, go to the dedicated Ham Skills website and put in your details for email updates.
As a reminder, there will be no Essex Ham Monday Night Net on the 20th of January, although as Danbury is the home of the GB3DA repeater used for the net, we're hoping to make contact with some of the net regulars who are not able to make it to the live event in Danbury.