Please welcome six new amateurs to the fold, smiling after passing their Foundation exam in Danbury tonight: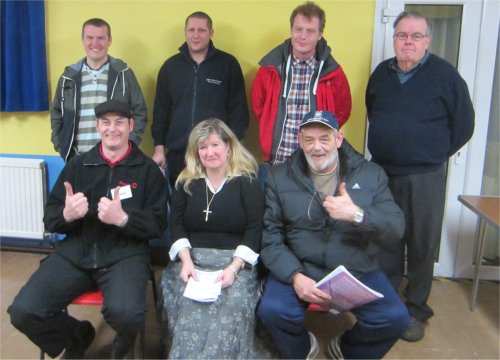 Congratulations to the six successful candidates Denis, Lloyd, Sam, Wayne, Dorothy and Chris who now begin the six working-day wait for their exam certificate that enables them to get their first licence and callsign.
The six-week course started on the 9th of January, and marks the 29th Foundation course held by the team at CARS. It's been a great group, full of candidates very keen about the hobby, asking lots of great questions, and keeping the tutors on their toes.
Sam made the trip down to train with CARS all the way from Suffolk, Wayne has been the subject of much chat on the Monday Night Net with Tony G6EEE and is looking forward to joining the net to defend himself, and Dorothy will now be vying for time on the mic with her other half Richard M0CLZ.
Well done too to all those involved with the training: Chris G0IPU, Clive G1EUC, Murray G6JYB, David M0HBV, Peter M0PSD, Myra M0MYR, David G3SVI, Martyn G1EFL, Carl G3PEM, Brian G3CVI  and Pete M0PSX. Welcome too, to the newest addition to the team, Kristian 2E0SSX.
Next steps
Many of the candidates are planning to attend next Monday's Skills Workshop at Danbury, so if you see them, give them a warm welcome to the hobby. Some have also expressed an interest in jumping to the next step, by signing up to the CARS Intermediate, which starts on the 13th of March. The following links may be handy: How to get your licence and Getting Started Guides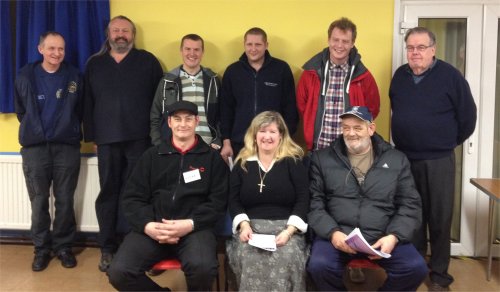 For details of training with the Chelmsford Amateur Radio Society, please go to www.g0mwt.org.uk/training