On the 1st of July 2014, Chris Stubbs M6EDF gave a talk to the Chelmsford Amateur Radio Society on the subject oh high altitude balloons. As part of the talk, a high altitude balloon, named "CARS-1" was launched from the club meeting venue of Oaklands Museum, in Chelmsford.
Here is a short video of summarising the evening, and the balloon's flight:
The payload was a GPS tracker with a transmitter operating on 434.3MHz – costing around £60. The helium-filled balloon was launched from Oaklands Museum shortly after 7:45pm local time.
Chris the gave an excellent talk explaining the hobby, from design, construction, launch, tracking and recovery. Chris got into the hobby a couple of years ago after seeing Gadget Show presenter Jason Bradbury, himself an amateur, trying it out. Catch our interview with Jason Bradbury 2E0JAB
Chris became an amateur in February 2013, on a Foundation course run by CARS.
With the CARS1 balloon in flight, Chris explained how to track balloons, Chris played Essex Ham's video recorded in 2013, which tracked one of Chris's flights.
By the end of the meeting, the CARS1 balloon had crossed the Thames and was over Kent, a little over 4km up. By midnight, CARS1 was over Sussex about to cross the English Channel
The last packet received in Southend was just before 3am, showing CARS1 half-way across the English Channel.
The final transmission was received by a French tracking station at 06:45 at a height of 5.4km. Voltage from the single cell battery had dropped to 0.7 volts, so it's likely the balloon continued flying for some time, just no longer transmitting. The payload does contain Chris's phone number, so hopefully someone in Europe will find it!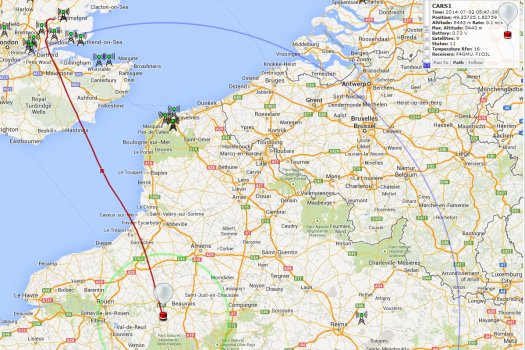 Related Links