Years ago, anyone interested in becoming a radio amateur were required to take complex tests involving electronics theory, radio construction and in most cases, learn morse code.
Things have changed here in the UK, making it considerably easier for newcomers to get into the hobby, and then progress to a higher level if they wish. In a matter of weeks, you can take a Foundation Course, and be on-air operating. Here we explain more about getting on-air with a ham radio Foundation Licence:
The Foundation Licence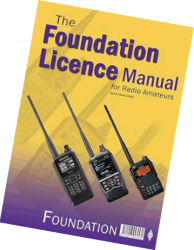 The Foundation Licence is an introductory licence to encourage new amateur radio operators to get a taste of the hobby, and to get on-air. Foundation licence holders have restrictions on what they can do, but these get lifted as you progress to the Intermediate and Full licences.
Getting a Foundation Licence will allow to to transmit on the VHF / UHF and HF bands to a power of up to 10 watts, which with a modest aerial and radio will be enough to get you into much of Europe and beyond.
The Foundation Licence Now! book is an essential part of the UK Foundation Licence. It's a 32-page A4 book that explains all of the basics, contains handy bits of information for the newbie amateur, and tells you what you need to know to pass the exam. It's supplied free on some courses, otherwise at the time of writing, it's under £5 at Amazon. (More: Amateur Radio Books)
Training Courses in Essex
The best way to learn the basics and take the exam, is to go on a local course. To see what's available in the area, see our Amateur Radio Training in Essex page.
The Chelmsford Amateur Radio Society (CARS) run regular Foundation courses in Danbury. These are six week courses that teaches you the basics with a mixture of theory and practical sessions. At the end of the course, you take a 25 question multiple choice test, and assuming you pass, you can get yourself a callsign and OfCom licence within a matter of days.
At the time of writing (Dec 2011), the course in Chelmsford is just £50 for the six weeks, takes place on a Thursday evening, and the price includes the Foundation Licence Now book and the exam fee.
Video of Foundation Training

Here is a short video clip showing an amateur radio Foundation training course in Essex:



Foundation: Practical
All Foundation licence holders are required to demonstrate that they can connect and use an amateur radio transmitter and antenna. On the course in Chelmsford, the tutors hand-hold you through the process and assess you as the course progresses. The practical part of the course helps you to understand what to do when you get your licence, and how to get on-air safely.
Basic radio operation – Tuning in, changing frequency and transmitting
Connecting a radio, antenna and power supply
A short transmission on a VHF/UHF amateur band
A short transmission on an HF amateur band
Adjusting a dipole antenna
Sending and receiving a short phrase in morse code (you don't need to learn morse)
Foundation: Exam
After completing the practical part of the course, you're required to sit a 25-question multiple choice exam. The questions are in the following categories:
Amateur Radio / licencing rules – 6 questions
Technical Basics – 4 questions
Transmitters & Receivers – 3 questions
Feeders and Antennas – 3 questions
Signal Propagation – 2 questions
EMC (avoidance of interference) – 3 questions
Operating Practices – 2 questions
Safety – 2 questions
You have 45 minutes to answer the 25 questions, and if you've paid attention during the course, and studied the book, then the exam should present no problems at all.
Foundation: Licence process
Your exam is normally marked as soon as the exam is finished, so you'll know if you've passed "while you wait". Assuming you pass, you're given a "Candidate Result Sheet" showing your pass and your details are sent on to the RSGB (Radio Society of Great Britain). After a few days, RSGB pass your details onto the UK regulator OfCom, and you'll be able to apply for your licence and callsign.
Your amateur radio licence is managed from the OfCom website, and you'll need to create a username and password on the OfCom site (Link: https://services.ofcom.org.uk/register). Once you've passed, you can do this straight away, whilst you're waiting for the paperwork to be processed. OfCom Amateur Radio site to  apply for your callsign and to get your licence.
Assuming you now have your OfCom username and password, it's a case of waiting until the paperwork is processed. For me, this took around 3 working days. To check if the paperwork has gone through, log on to the OcCom site, and select "Apply for a new licence". Follow the instructions, and you'll be prompted for the RSGB candidate number, from the Candidate Result Sheet"
Once your licence is issued, you can then pick your callsign, and the OfCom site will guide you through the short process.
Foundation: Callsign
Your callsign will begin with "M6″ followed by three letters, and you can pick those three letters yourself (if the callsign you're after hasn't been taken)
Once you have your callsign and your licence, you're able to start transmitting on HF (long distance) and VHF/UHF (shorter distances), and you can start to see where the hobby takes you.
Next Steps?
Got your licence? See our Just Got Your Licence page