On this page, we take a look at an impressive, and tiny, dual band handheld amateur radio, the Baofeng UV-3R.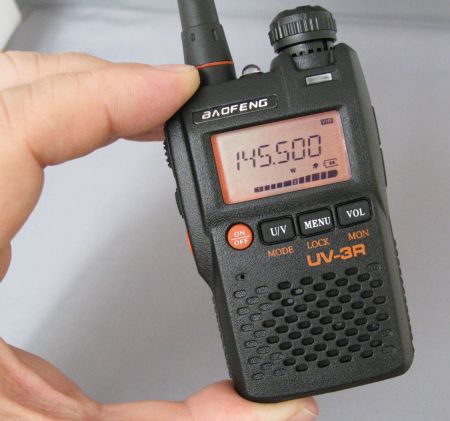 Here's what the Baofeng UV-3R has to offer:
2 metre / 70 cm transceiver
Tiny – At 81 x 47mm
Covers 136-174MHz and 400-470MHz
Works with UK repeaters
Dual-watch
Scanner
VOX
CTCSS / DCS
Reported 8 hour battery life
Also has FM radio and torch
The real seller for this model though, is that it costs around £30. Yep – You read that right… a pocket-sized fully functional dual-band transceiver for £30.
Availability
As you have probably guessed, ths is one of the many Chinese low-priced amateur radios (like the Quansheng TV-UV2) that you can buy if you don't ordering from Hong Kong and waiting a couple of weeks.
Note that a MkII version of the UV-3R is available, with a two-line display. Specs, prices and suppliers are similar.
I was advised to use Mega409Shop by fellow ham Jim. On this recommendation, I purchased one, and paid under £30 including the P&p. It arrived within 10 working days from Hong Kong.
Buying a Baofeng: The best deals appear to be on eBay, from a Hong Kong supplier. Allow approx. 10 days for shipping. To get the best price, the trick seems to be to go via ebay.com, and not ebay.co.uk – Here's the link to the seller I used: eBay US Mega409shop
Baofeng UV-3R Review
Out of the box, this is an impressive radio. It's very tiny, and very light. Sure, it doesn't have the solid feel of a larger handheld, such as a Yaesu, but it's made of a tough plastic and looks like it will take a few knocks. Further down the page, is a YouTube clip of me unboxing the radio, and going through the box contents.
Programming the radio for access to local repeaters was surprisingly easy, at least compared with the Quansheng TG-UV2 and the Moonraker HT-90 that's covered elsewhere on this site. I've added a guide on how to set it up for access to the main Essex repeater. See Setting up the Baofeng UV-3R for GB3DA Danbury Repeater – It's worth mentioning that this Baofeng can be programmed from a PC, using a programmig lead – sold seperately.I have one of these on order, and will add information on this in due course.
I was expecting the radio to be a little tricky to set up, as it's too small for a numeric keypad. Without keypad entry, all of the channel and memory selection is done using the rotary control at the top of the radio, which has a handy lock, so it doesn't spin accidentally. Scrolling from one end of the band to the other by spinning the tuning dial feels a little tedious, so it's worth setting up a few memory presets early on.
The manual is surprisingly well-written too, although doesn't mention the name of the radio, so it can be assumed that this is a general manual for other radios made by the same factory to the same spec.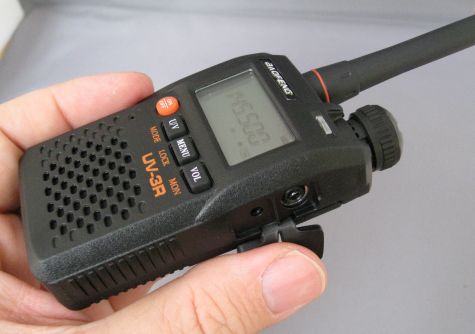 Controls on the radio
On the front of the radio is an orange power button, a 'U/V' button for toggling UHF/VHF,a 'Menu' button and a 'VOL', which uses the dial control to adjust audio volume.
On the left-hand side is an orange 'L/R' button, which is for the light and FM radio. There's a decent sized PTT button, and there's also an F/A button. A word of warning. Don't hold down the F/A button, as this causes the radio to emit a very loud emergency signal, with no obvious way to turn it off. If you decided to key up whilst the emergency tone was sounding, it'd be transmitted.
On the right of the radio is the headphone/speaker socket, plus the socket for the supplied 5V mains transformer.
On the top, there's the female SMA socket, white LED, and the dial.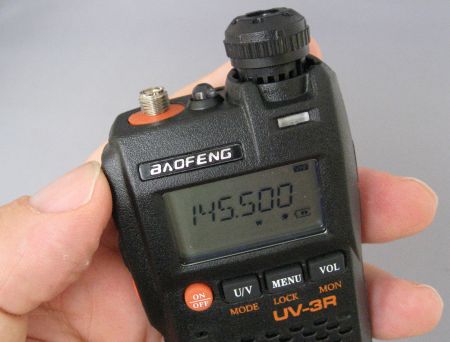 Using the UV-3R
So far, I've been very impressed with the radio. There are a couple of things you should note:
Power: The radio transmits at a maximum of 2W. Other handhelds out there go up to 5W, so if power is key, then this may be a factor.
Aerial: The radio comes with two aerials – A 2metre band aerial (measuring 107mm) and a 70cm band aerial (at 76cm). A dual-band aerial would have been nice, but apparently one is available online.
Tail-Tone: There's an option described as "to eliminate the annoying audio caused by carrier wave disappearing after the transmission ends the communication". The default is "off", and for repeater access, that's how it should stay.
W/N: The radio has a setting for wide and narrow band. Menu option 13 gets you to this
I'm very happy with this little radio. I've hooked it up to the card mag-mount, and had no trouble working the repeaters in the area. The audio quality from the speaker is pretty good, and the FM radio has a decent enough sound for the size of speaker. Audio from my test QSOs has been described as "great", indicating that the mic and AF gain do the job nicely.
There's little not to like about this radio, and even if you have a portable already, at £30 this makes an ideal spare, or as a low-price entry level radio for anyone that's just passed their Foundation.
To check out the prices, and for accessories – See Mega409shop on eBay US
Baofeng UV-3R Specifications
According to the manual, here are the specs:
Dimensions: 81 x 47 x 23mm
Weight: Approx 130g
RF Output Power: 2 Watts
Battery: 1200mAh
Spurious Emission:  Greater than >65dB
FM Noise: 45dB(W)/42dB(N)
Sensitivity (12dB SINAD): 0.2uV
Spurious Response Rejection: Less than -60bB
Audio Output Power: Less than 1.7V at 8 ohms
Receiver Current: Less than 400mA
Standby Current: Less than 75mA
Unboxing the Baofeng UV-3R
If you're interested, here's a 3 minute video clip of Pete taking the UV-3R of of its box, and having a quick look at the box contents:
Supplied with the Baofeng UV-3R
As you'll see from the Unboxing video, there's a belt clip, docking station, 5V mains charger (with UK adapter), two aerials, battery, hand strap, and a mono earpiece with inline mic (which works well with hands-free VOX)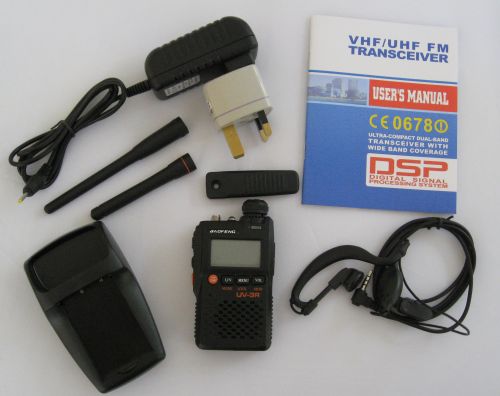 Related Pages