The good news is that it's now easier to get an amateur radio licence than ever before! Years ago, anyone interested in becoming a radio amateur was required to take complex tests involving electronics theory, radio construction and in most cases, learn Morse code.
Things have changed here in the UK, making it considerably easier for newcomers to get into the hobby. You can now get started with an entry-level Foundation Licence in a few weeks. On this page, we explain more about getting on-air with a ham radio Foundation Licence:
The Foundation Licence?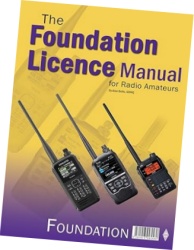 The Foundation Licence is an introductory licence to encourage new amateur radio operators to get a taste of the hobby, and to get on-air. As a Foundation licence holder, you'll have access at low power to a range of different frequencies, but you can gain more power and privileges as you progress to the Intermediate and Full licences.
Getting a Foundation Licence will allow you to transmit on the VHF / UHF and HF bands up to a power of up to 10 watts, which with a modest aerial and radio will be enough to get you into much of Europe and beyond.
The Foundation Licence Manual book is an essential part of the UK Foundation Licence. It's a 42-page A4 book that explains all of the basics, contains handy bits of information for the newbie amateur, and tells you what you need to know to pass the exam. At the time of writing, it's under £5 at Amazon on paper and on Kindle: Paper version and Kindle version. (More: Amateur Radio Books)
We also offer an online training course for those planning to take up the hobby who are studying towards their Foundation exam – See: Essex Ham's Foundation Online course
The following video gives you an overview of what's involved in getting your Foundation licence:
How to get started in amateur radio
These two videos explain a little more about the hobby, and how to get started by getting a Foundation licence:
Foundation: Exam
To get your first amateur radio licence, you're required to sit a 26-question multiple-choice exam. You have the option of studying with the help of a local amateur radio club, home-study using an online course such as our Foundation Online course, or self-study using the RSGB's Foundation Manual or with help from another licenced radio amateur.
The exam is pretty straightforward and covers the following categories:
Amateur Radio and Licence Rules – 6 questions
Technical Basics – 3 questions
Transmitters & Receivers – 3 questions
Feeders and Antennas – 3 questions
Signal Propagation – 2 questions
EMC (avoidance of interference) – 3 questions
Operating Practices – 3 questions
Safety – 3 questions
You have 60 minutes to answer the 26 questions, and if you've paid attention during the course, and studied the book, then the exam should present no problems at all. To pass, you'll need to get 19 of the 26 questions correct. For more, see Getting Started: Foundation Exam.
Update: Study and pass online
As of 2021, it's now possible to study online for free, and take your exam online – no need to complete any practical assessments, or visit an approved exam venue. To enrol, visit Foundation Online Registration. If you prefer classroom-based teaching, many local clubs offer training courses and exams.

Foundation Licence & Callsign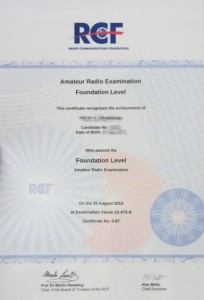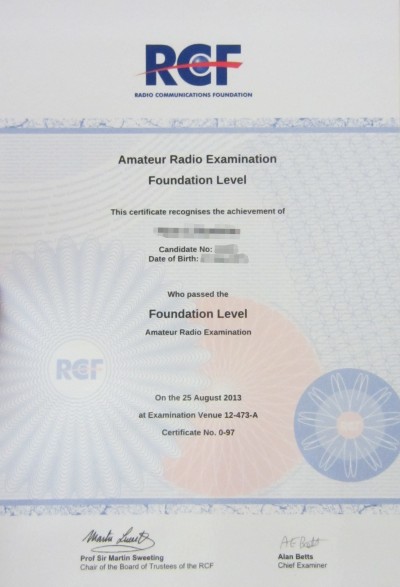 You normally get your results immediately after taking your exam. Assuming you pass, you'll be sent a Pass certificate by post from the RSGB (Radio Society of Great Britain).
Your details will be passed on to the UK regulator, Ofcom, and you'll be able to apply for your licence and callsign.
For details of how to do this, see: How to apply for your amateur radio licence
Your Foundation callsign will begin with "M7" followed by three letters, and you can pick those three letters yourself (if the callsign you're after hasn't been taken)
Once you have your callsign and your licence, you're able to start transmitting on HF (long-distance) and VHF/UHF (shorter distances), and you can start to see where the hobby takes you.
Next Steps?
Hopefully, this page has given you a feel for the process and how to get started. If you are keen to get on and get your licence, it's a case of studying for the exam.
You can learn from taking an online course, reading the course book, or visiting a local amateur radio club. A good number of amateur radio clubs offer training courses and support.
If you want to study online, try our free Foundation Online course to help you study.
If you'd prefer to study at a club, put your address into the RSGB Club Finder to find your nearest one. If you're in Essex, see our "Training in Essex" page for details of local training courses, otherwise

Related content