Thanks to the team at the Thurrock Acorns for submitting the following story:
Thurrock Acorns Amateur Radio Club – April 2016 Skills Night.
On the 12th of April 2016, Steve Simmons G4HXY from the Thurrock Acorns Amateur Radio Club (TAARC) ran the first skills night at the scout centre in Grays. Steve is highly skilled in the electronics sector and the idea of the evening was for him to pass some of his knowledge to members of the club. As this was the first time the TAARC had run this type of event the numbers that could attend had to be limited. This first evening focused on soldering and de-soldering.
One nightmare an amateur can have is when they have built a project but for some unknown reason it won't work and on first examination they cannot see why. One of the possibilities is something called a dry joint. That's where a solder joint looks OK to the eye but because of a dirty component/printed circuit board the solder joint is faulty. Steve showed how to try to reduce the possibility of dry solder joints and then demonstrated how to remove a component if it has been soldered in the wrong place. He also showed some of the trick of the trade when it comes to soldering which makes life easier.
The following picture shows Steve (sitting facing) with members of the TAARC watching ( L – R Nigel 2E0NBC, Steve G4HXY, Bob M0BOB, Stella G0EKP and Chris G0EKN).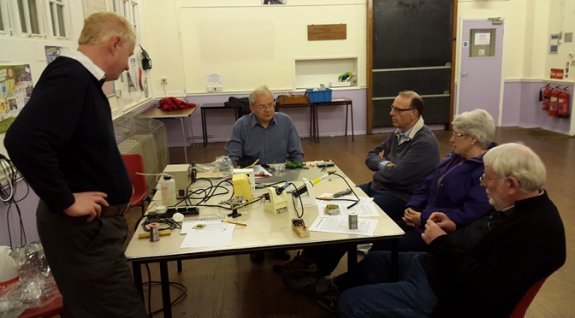 Those in attendance then had the opportunity to try for themselves. The evening was a huge success and a second evening is to be run next month.
Thanks to the team at Thurrock Acorns for submitting this story.
Related Links
Involved with a club in Essex? We can help to promote your club's event to the amateur radio community. Send us your events news, and we'll help to promote your event to amateurs from across Essex and beyond. If your club's events aren't being featured, get in touch with Essex Ham, or find out more about how Essex Ham supports local clubs.