Thames ARG operated on Two Tree Island, near Leigh-on-Sea today, Saturday, the 8th of December 2012.
The event was organised by Mike M0MMB, the Chairman of TARG, and was open to members and non-members alike.
A number of amateurs and friends turned up at various points of the day, including: Mike M0MMB, Tom 2E0TNC, Fred M6BZW, Pete M0PSX, Keith G7FFI, Rob M6KDP, Nigel M3XUZ, Tony M6TET, Mark M0IEO and Mark's son Peter.
It was a chilly day down on Two Tree Island, and HF conditions went down a little in the afternoon. The team stared by working on 40 metres (7.169MHz), but moved onto 10m, 15m and 17m later in the afternoon. Contacts included South Brazil and Missouri, as well as many UK and European stations.
Most of the equipment in use was rigged by Mike, including:
FT897 and tuner
10m multiband whip antenna
40m monoband dipole
Heater
Gas burner for kettle
Kettle
Well done to Rob M6KDP, one of the recent M6 licensees and an active participant of our Monday Night Net for making his first HF call on 20 metres from the back of his car using his Buddistick. He first made contact with Spain, then with Russia – an ear-to-ear grin.
Two Tree Island Pictures
Here are a couple of pictures from the day. There are more on the Thames ARG website: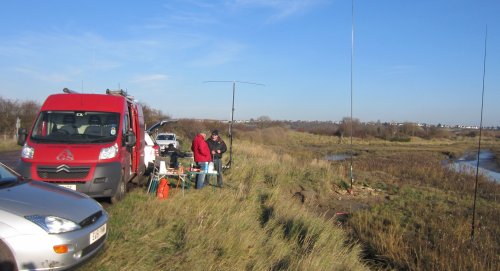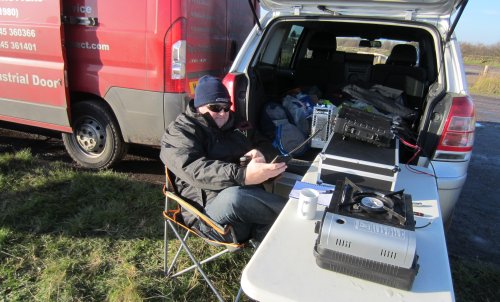 Where is Two Tree Island?
View Larger Map
Related Links
Any questions or comments, please add them below…