Tuesday the 15th of December 2015 was the last event of the year for the Thurrock Acorns Amateur Radio Club – the Christmas Social.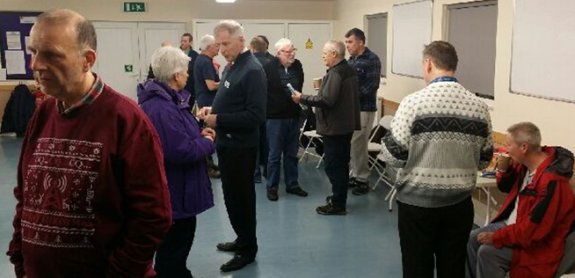 The Christmas social was an open-house event designed to be an informal event where everyone, both members and non-members could meet and chat while eating a mince pie.
The picture shows some of the people that attended the TAARC social event. In the foreground is Bob M0BOB a club member, with other members and friends in the background.
During the evening, plans were being developed re running a radio/electronic event next year which we hope will appeal to the youth of the district. The Chairman Nicholas Wilkinson G4HCK said:
"Over the past year the club has completed numerous activities both on the club nights and at field days that we attended. Although we operate in a niche area and are a small club, we are growing. We already have the first speaker arranged for our January meeting and a field event is planned for the end of the month".
Thanks to the team at Thurrock Acorns for submitting this story.
Related Links
Involved with a club in Essex? We can help to promote your club's event to the amateur radio community. Send us your events news, and we'll help to promote your event to amateurs from across Essex and beyond. If your club's events aren't being featured, get in touch with Essex Ham, or find out more about how Essex Ham supports local clubs.