Thanks to the team at the Thurrock Acorns for submitting the following story:
Heavens Above
Tuesday the 19th of April 2016 was the monthly meet of the Thurrock Acorns Amateur Radio Club (TAARC) held at the 1st Grays Scout HQ in Grays. The evening focused on the solar system and our presenter for the evening Darren Attersley joined us and gave a brief overview of what we could expect to see in the sky above. Everyone then adjourned outside to where Darren had set up his telescope which allowed us to look into the evening sky.
The temperature was not too cold and the sky was clear which gave us the ability to have a clear view of the moon and Saturn and its moons. Some club members brought their telescopes and Darren helped them to set them up to get the best view of the different planets. Everyone who attended said that they really enjoyed the event, Darren's 2nd visit.
Nicholas Wilkinson chairman of the club said:
"Darren had visited earlier in the year and everyone was fascinated looking at the pictures of the different stars etc. above us. We therefore thought we would ask him to return but this time hope the weather was favourable to enable us to look at the planets thought telescopes and it was – the weather could not have been better. It makes you realise how small the earth is".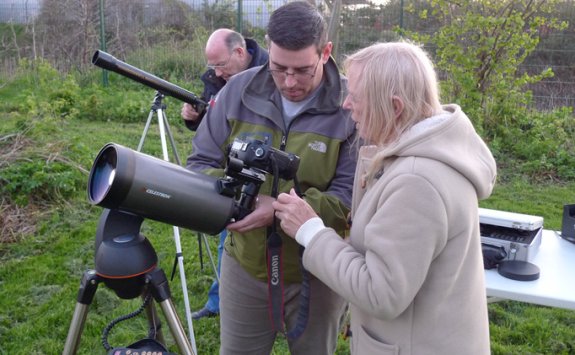 The picture shows Darren 2E0OCA explaining the computer controls connected to the telescope to Rachel G6AMY as she connects her camera to the telescope to enable her to take pictures of the moon. In the background Peter M6RFW is setting up his telescope.
Thanks to the team at Thurrock Acorns for submitting this story.
Related Links
Involved with a club in Essex? We can help to promote your club's event to the amateur radio community. Send us your events news, and we'll help to promote your event to amateurs from across Essex and beyond. If your club's events aren't being featured, get in touch with Essex Ham, or find out more about how Essex Ham supports local clubs.