Thanks to the Thurrock Acorns for submitting the following report. See also Essex Ham's report on the March 2016 2m Essex Activity Day.
Last weekend (26 March), the Thurrock Acorn Amateur Radio Club (TAARC) members joined in on the 2 metre band activity afternoon. The event took place on Saturday from 13.00 hrs to 17.00 hrs. The objective of the event was to get local amateurs using their radio stations at home communicating in 4 different modes (ways) over the airwaves.
The four modes were, voice just talking, CW this is by Morse, SSB single sideband an efficient way of making a transmission and by SSTV, slow scan television. Four members located in Thurrock started to transmit in one of the modes and other amateurs located in Thurrock and surrounding counties made contact with the stations.
In total, the group contacted over 40 stations in the limited time.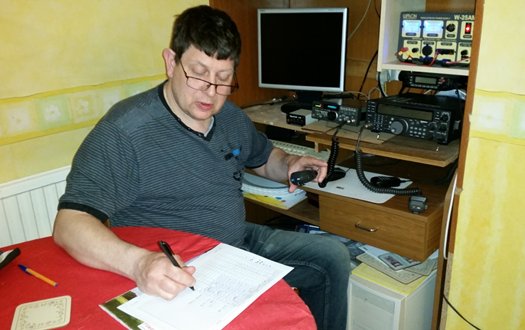 The picture shows Simon M1GGY one of the club members talking on his home station during the event.
Chairman of the Thurrock Acorns ARC, Nicholas Wilkinson G4HCK said:
'This was a new activity and we did not know if it would be a success but as over 40 stations were contacted I was very pleased with the outcome. We are planning to repeat the event later in the year'.
Thanks to the team at Thurrock Acorns for submitting this story.
Related Links
Involved with a club in Essex? We can help to promote your club's event to the amateur radio community. Send us your events news, and we'll help to promote your event to amateurs from across Essex and beyond. If your club's events aren't being featured, get in touch with Essex Ham, or find out more about how Essex Ham supports local clubs.