The May Skills Night took place on Monday the 18th of May 2015 in Danbury. The event, hosted by the Chelmsford ARS training team, was yet another busy one with well over 50 people turning up for the usual mix of show-and-tell, hands-on practicals, advice and training.
For the official write-up of the event on the Chelmsford ARS site, go here
The rest of the page contains a few unofficial notes and photos from the keyboard and camera of Pete M0PSX.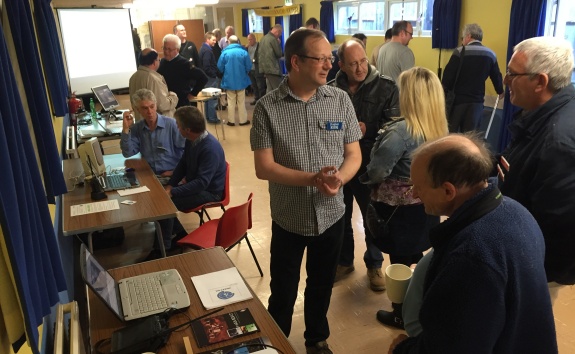 On the menu for the May evening:
Construction: A very busy room with Peter M0PSD & David M0HBV making and testing 2m and 70cm slim jim antennas and helping with other projects and construction advice.
Exam Revision: Peter G0DZB offered his services to help with those studying for the Full exam. When I walked past, Peter and Dorothy 2E0NCE were deeply buried in dB calculations… my cue to back away slowly.
Operating Portable Workshop: Ever the multi-tasker, Charlie M0PZT was helping with /P advice, showing off the range of Ham Goodies, that are vital for field ops, and occasionally switching modes to help with Baofeng programming (sorry Charlie!)
EchoLink: Jim 2E0RMI, now an international name on the Chelmsford Calling World Service, switched to the smaller audience of the Danbury Village Hall to demonstrate Echolink and chat about various different aspects of the hobby – the cheque's in the post!
Satellites: Thanks to Steve M0SHQ for flying the flag (and the yagi) for the amateur radio satellites – how to track and work 'em, as well as where to point your beam skyward.We gather Steve's eagerly awaiting the chance to try for Major Tim later in the year!
Digital Callsign Badges – Nick M0NIB returned with a batch of scrolling callsign badges, the kit to reprogram them, some very secure USB dongles, and a smiling inverted QRM generator
Essex CW Club: Representing all that's Morse, Rob M0KCP plus others from the Essex CW Club were busy as ever, showing their wares and promoting their artform
Essex Ham: This time, SDRs, PZTLog on a Windows Tablet, loads of leaflets and a video driven from a Pi
SDRs and OS: Thanks to Andy G7TKK for bringing along a mix of notebooks (3 different OSs), setting up an antenna, and showing an SDR in action. Next time, we need to get you a bigger table Andy!
Quiz: Well done to Clive for running the quiz, this time with questions from CARS President Carl G3PEM.
Great to see so many friends and to catch up. Personal highlight for me was seeing three of the candidates that I'm helping to train on the SEARS Foundation course turning up to the Skills Night, and diving into construction. It's very rewarding to see that amateurs from clubs across the county and beyond are making the trip to Skills – proving that regardless of club affiliation, age, licence level, brand loyalty and experience – all are welcome at Skills, and we're all sharing and enjoying.
Photo Gallery
[ngg src="galleries" ids="45″ display="basic_thumbnail"]
Personal thanks
A big thanks to everyone who helped out or brought something along to show. A big thanks also to David and Myra for the hard work backstage, to Ann Salmon (Mrs RMI) for the excellent cakes and to Sarah M6PSK for the logistical (and moral) support.
Prepared by Pete M0PSX
The next CARS Skills Night takes place on Monday the 15th of June 2015
Related Links