Just back from another very busy Skills Night, hosted by CARS at the Village Hall in Danbury. Here's a short summary and a selection of photos.
Great to see so many people attending, despite the rather grotty weather, a nasty set of temporary traffic lights on the A414, and problems for our Kent and London friends at the Dartford Crossing.
The signing-in book shows an impressive 58 names, including three from the MARTS club in Kent, three from the Havering & District ARS, as well as the RSGB's Region 12 Manager Steve M1ACB traveling down from Suffolk for the evening. A good number of visitors, Foundation and Intermediates in attendance too, as well as two of the current CARS Foundation candidates who have their exam this Thursday (Good luck guys!)
VIDEO: CARS Skills Night – Feb 2015
Here's a quick summary of the demos and activities:
HF Pedestrian Mobile
A first for the Skills Night, Tom G0SBW brought along a huge collection of the equipment he uses to work HF pedestrian – including backpacks, dipoles, loops and chest-mounted rigs. Tom typically uses this kit whilst walking along the beach, making use of the water as his counterpoise. Tom got a very well deserved round of applause for his devotion to the hobby – Thanks for bringing along the collection for us to take a look at.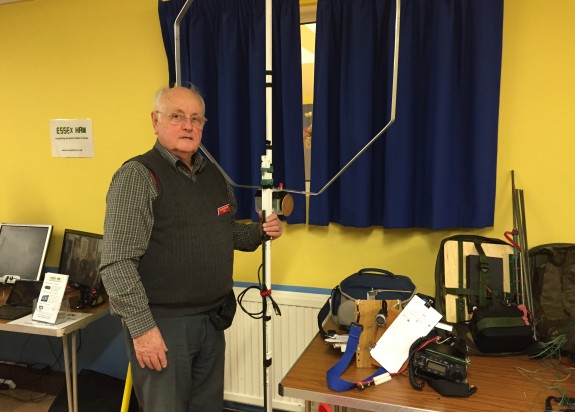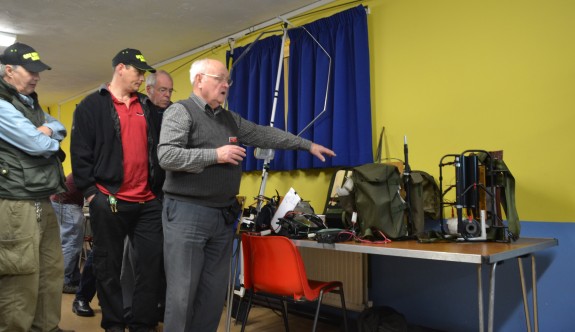 Radio Programming & Data Modes
Getting that new Chinese imported handheld to work on GB3DA and other local repeaters is a constant challenge, but once again, Charlie M0PZT was on hand to help – a collection of interface cables and the powerful Chirp package on his laptop again allowed some whilst-you-wait programming. Also on offer from Charlie's table, Arduino board demos, help on working data modes, and logging app demos.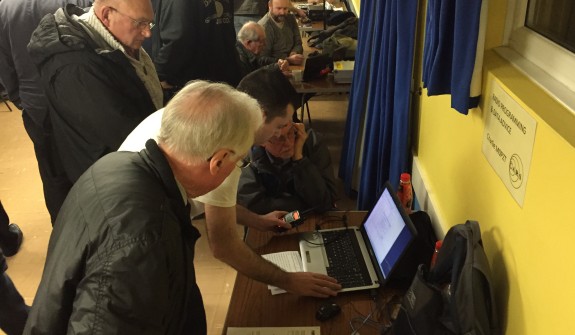 Construction Corner
Back after a short break, soldering and construction – Thanks to Peter M0PSD for working hard on patch leads, soldering and other bits of of tinkering in the Construction Corner.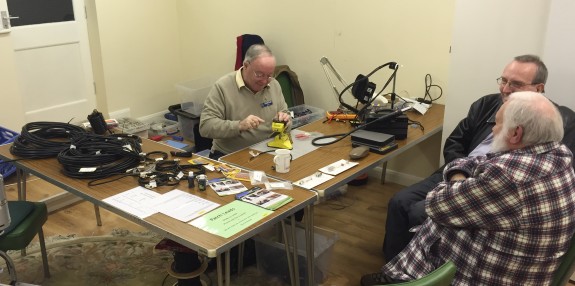 HF Advice
Armed with his trusty whiteboard, CARS President Carl G3PEM was able to offer advice on all aspects of HF and antennas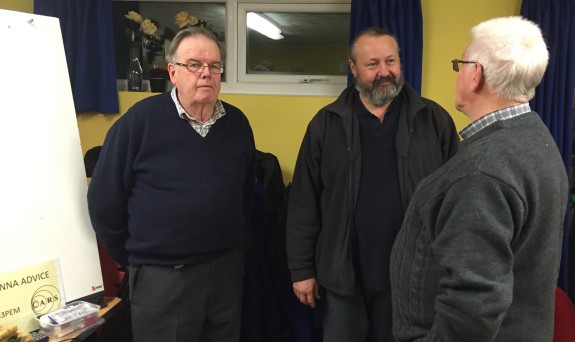 Morse & More
Thanks to Steve G4ZUL, Rob M0KCP, Oliver M0WAG and others from the Essex CW Club for the night's demos, and the rather impressive Buddipole setup.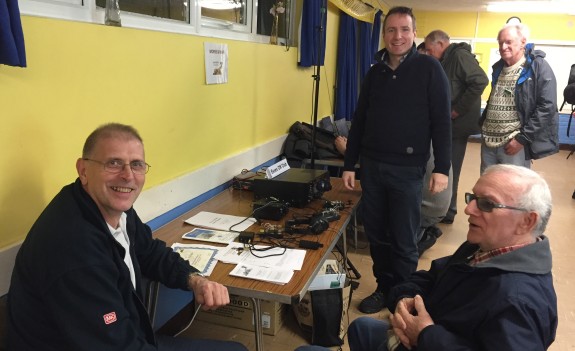 Badges
Jim 2E0JTW was back, making badges on demand – including some rather snazzy looking Gold ones!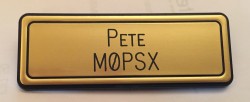 Essex Repeater Group
Thanks to the team from the Essex Repeater Group for manning the ERG table – an excellent chance for users of the GB3DA repeater to make a donation get some advice or pick up some literature.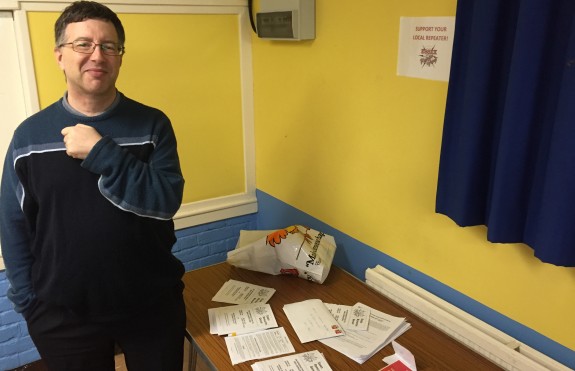 Raspberry Pi Laptop
An unplanned appearance of a nifty Raspberry Pi laptop made for an impromptu and well-received demo, courtesy of Andy G7TKK, brother of Chris G0IPU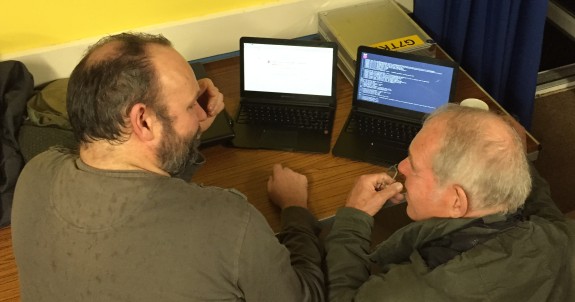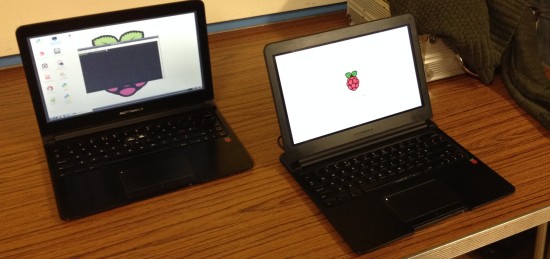 Essex Ham
Nick 2E0DVX took care of business on Essex Ham's table, with a wide range of things to look at, including the Linx 7″ and Linx 8″ budget Windows tablets, the £10 SDR Dongle, a DMR handset and Nick's famous "send your message in Morse" application. Pete M0PSX had two videos running – a look back at 2014's amateur radio activity, and the Canvey Rally 2015 video – played back on a Raspberry Pi.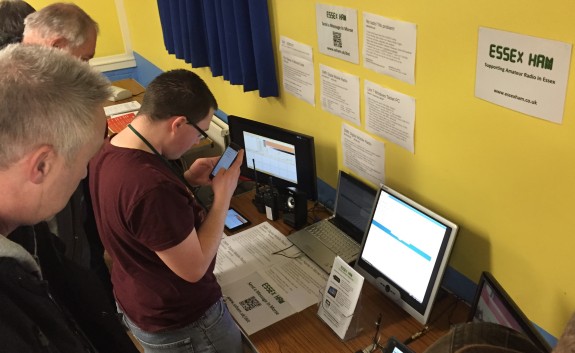 The Quiz
Quiz compere Clive G1EUC ran through the evening's quiz, with a mix of questions from beginners to veterans – the question 'borrowed' from the RSGB's mock paper caused as much controversy as one of Murray's mock questions!
Monday Night Net Linkup
Regular Skills attendee James 2E1GUA was unable to attend, but very kindly offered to step in and run the Monday Night Net, whilst the regulars were at the Skills Night. The report is here: Monday Night Net 16 Feb 2015. Just to keep James company, almost 50 people passed a simultaneous guest message over to the Essex Ham Net – Have a listen…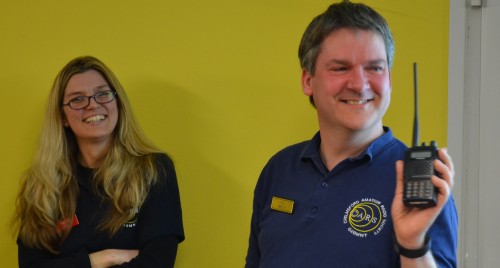 Thanks everyone!
A big thanks to everyone who brought something along to show tonight. Also to those who made the trip in the less-than-favourable conditions – great to see so many of you, and apologies if I didn't manage to catch up with everyone. Special thanks too, to David and Myra for the hard work backstage. Pete M0PSX
Thanks to everyone for the ongoing support of the Skills Night, and thanks to CARS for hosting the event.
Thanks also to Steve M1ACB, RSGB Regional Manager, for the following tweet: "I really enjoyed visiting the CARS Amateur Radio Skills Night in Danbury tonight. Great to see so many people there #hamr"
The next Skills Night takes place on Monday the 16th of March 2015