The May 2016 club night at the South Essex ARS (SEARS) was on the topic of budget software defined radios, and was presented by Paul 2E0DNQ, an avid fan of these powerful and flexible little devices.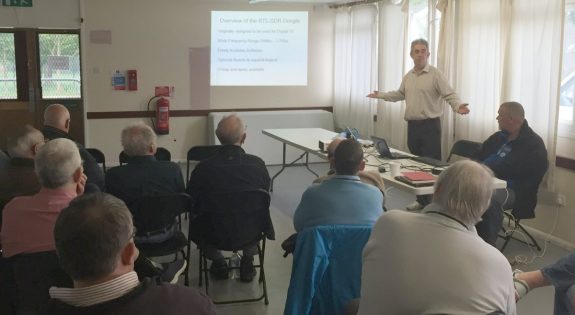 In his talk, Paul featured the Realtek SDR dongle, which is available for between £8 and £12 (see link later in this article if you want to get one). Paul covered what the dongles can do, how they work and how to install the software.
The dongles themselves are capable of doing far more than designed to do – originally, they were sold to allow people to receive Freeview digital TV, but using the right software, they can be used to monitor a sizeable chunk of the radio spectrum, track aircraft, decode data modes, listen to FM and DAB radio, and experiment with.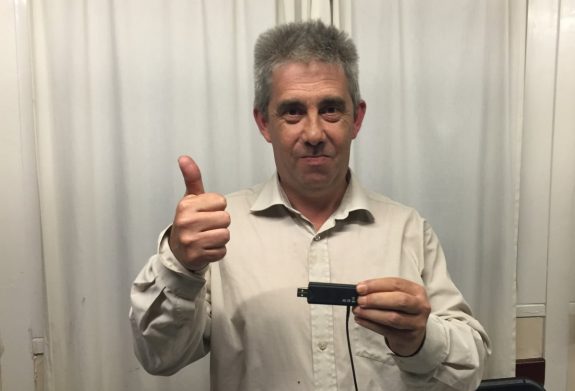 Key to getting the most out of these from an amateur radio perspective, is the software – Paul talked through the pros and cons of three packages, SDR#, HDSDR (Paul's favourite) and SDR Console 2. For Linux users, Paul 2E0SET in the audience recommended GQRX.
Paul wrapped up with talk about some extras, such as a low noise amp, up and down converters to cover a greater area, plus filters (which are missing from the core RTL SDR)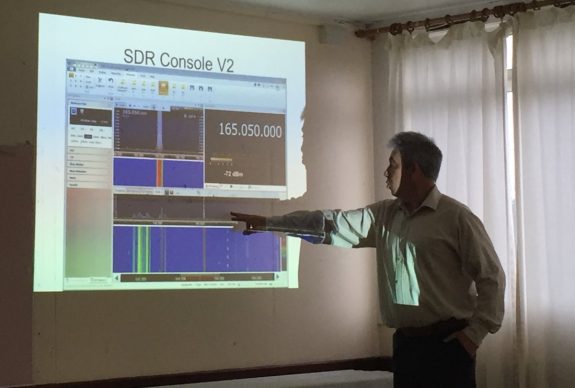 Thanks to Paul for an interesting talk on what the RTL SDR of capable of.
Pete's kindly offered to come along to the Essex Skills Night on Monday the 16th of May to demo some of the software discussed at the SEARS meeting.
Handy SDR Links
Realtek RTL2832U SDR Dongle Availability

Here's where to get the original RTL-SDR dongle (R820T chipset), or the second generation blue model with the R820T2 chipset offering slightly better performance:
Related Links
Involved with a club in Essex? We can help to promote your club's event to the amateur radio community. Send us your events news, and we'll help to promote your event to amateurs from across Essex and beyond. If your club's events aren't being featured, get in touch with Essex Ham, or find out more about how Essex Ham supports local clubs.