Thanks to the team at the Thurrock Acorns for submitting the following story in May 2016:
Recently, Miles Burton contacted the Thurrock Acorns Amateur Radio Club (TAARC), as he wished to delve further into the hobby of amateur radio. His research confirmed his thoughts and he decided to get involved, the first challenge being passing the foundation licence exam and obtaining a licence to transmit on the airwave.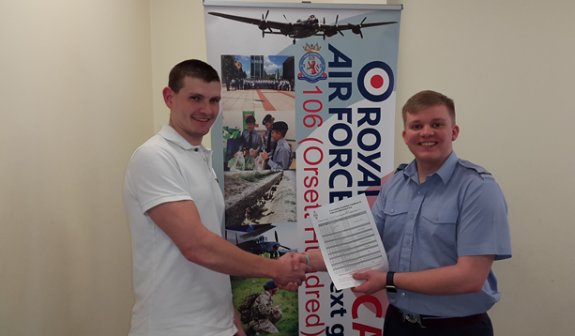 With the support of members from the TAARC, he worked through the syllabus and then took the practical exam and passed. In late April 2016, he sat his theory exam which he passed with a 100% pass success. This was the first time in the clubs history that anyone has got all the questions correct.
Nicholas Wilkinson chairman of the club said:
"we were delighted to be able to support Miles and very pleased he passed. He is already looking at moving onto the next level"
The picture shows (L to R) Miles being presented with his pass certificate by Pilot Officer RAFVR Ryan Jones who was the invigilator at the exam.
Thanks to the team at Thurrock Acorns for submitting this story.
Related Links
Involved with a club in Essex? We can help to promote your club's activities and events to the amateur radio community. Send us your events news, and we'll help to promote your event to amateurs from across Essex and beyond. If your club's events aren't being featured, get in touch with Essex Ham, or find out more about how Essex Ham supports local clubs.