This "how to" topic was inspired by comments we received to our "How to show off your callsign" page. One of the ways that a ham can promote his or her callsign, is to own the web domain name for their callsign – On this page, we explain how.
Your callsign on the web
Most amateurs are listed on the QRZ.com database, meaning that other hams can find them, see photos and get QSL details. Assuming you're already listed at QRZ, you'll have a web address such as www.qrz.com/db/M6XXX – however, you may prefer something more simple, such as  m6xxx.com
It's surprisingly cheap and easy to get your domain name registered, and you can use it without having to get a website designed. At the time of writing, owning your own .co.uk domain name costs around £3 a year plus VAT.
Domain name
For this guide, we're going to assume that you want to get your domain name, m6abc.com – You may also want to get m6xxx.co.uk or m6xxx.me.uk
Once you've found a domain name that you like, we're going to do two things with it:
Point the domain name to your entry on QRZ.com – You could point the domain to your own website, club page, or any web address you like
Set up email forwarding, so that yourname@m6xxx.com will forward emails to your existing email address
How to get your domain name
There are hundreds of companies out there that will sell you your domain name. Two that our team use are Namesco and 1 & 1 Internet. They're both based in the UK, and at the time of writing, 1 & 1 Internet are offering the best prices on .co.uk and .com domains.
Below is a box that lets you check whether your domain name is available, and lets you order your domain online. Please note that if you order your domain from this link, we make a small commission, which is used to help with site running costs.
Ordering
For the purpose of the rest of this article, we're going to assume that you're going to buy your preferred domain name from 1 & 1 Internet.
Order the domain name that you wish to use via the 1 & 1 website, and pay using your credit or debit card. When ordering through 1 & 1, just order the "domain only". You will be prompted to order hosting, other domain names and discounted Internet security. Just go for the basic domain name only. At the time of writing, cost for two years is £5.48 for a .co.uk domain name.
You'll need to create a 1 & 1 account, which should take a few minutes, and then once your order is processed, the domain should be yours.
Using Your Domain
Now that you have your web domain, you need to do something with it. For this how-to guide, we're going to point the web domain to your QRZ page, and the domain email address to your personal email address. To get started, you'll need to log on to 1 & 1 using the username and password that were set when you signed up to 1 & 1 and bought the domain.
Forwarding your domain to QRZ
Here's what you need to do:
Log on to 1 & 1 Internet with your username and password at https://admin.1and1.co.uk

Click on the "Domains" section from the Control Panel
Next, select the domain name by placing a tick in the box, click the Destination button, and "Edit Destination"

You'll now be taken to a screen where you enter the web address that you want to forward your domain to, as seen in the following screenshot: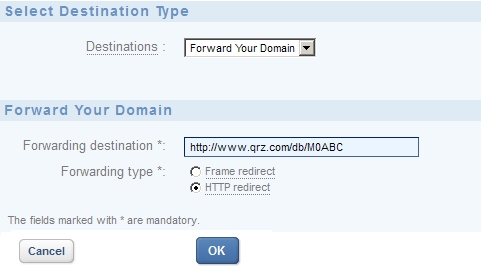 Once you have entered the web address, press "OK" and your redirect should be ready. It may take a few minutes to become operational
Forwarding email from your domain
Now that you have your domain pointing to QRZ, you may want to make use of your domain for emails, e.g. steve@m6xxx.com – The process is pretty straightforward:
Log on to 1 & 1 Internet with your username and password at https://admin.1and1.co.uk

From the Control Panel, look under "Communications" and select "E-mail Administration"
When prompted, select "Create", and then select a new email forward
You'll get a screen like the following: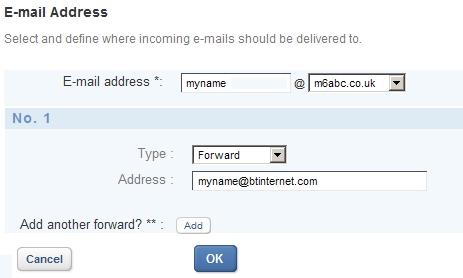 It's a case of entering your normal email address where indicated, and mail to your domain will be forwarded on to your normal email address.
Hopefully this guide has been of use. If you have any comments or questions, please add them below.