Sunday the 8th of November 2015 saw a number of Essex Ham members make the trip to West London for one of the country's most popular rallies, the West London Radio & Electronics Fair, better known to its friends as "The Kempton Rally"
The rally has been running for over 11 years, and is held twice a year, with the next being in April 2016.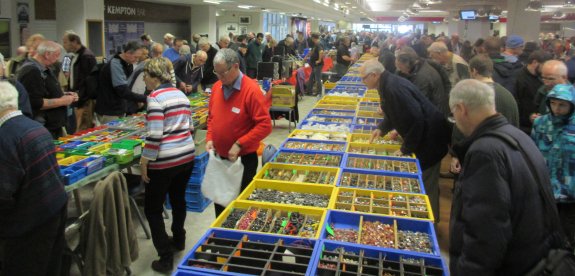 About The Rally
This is a great rally with all the essential components – big names such as Icom, BHI, Practical Wireless and the RSGB, retailers large and small, plus loads of parking, decent Costa Coffee and enough room to wander about, browse & chat.
The event included a free-to-enter raffle (ticket included in the door price), and a fish and chip lunch was available.
To get a feel for the rally, keep scrolling down for our video of a previous year's rally.
Familiar faces
Great to catch up with many familiar faces. Too many to name, and I'm bound to forget a few, but here goes:
Essex Ham members: Charlie M0PZT, Dorothy M0LMR, Mitchell 2E0EMO, Pete M0PSX, Phil M0IMA, Richard G7OED, Selim M0XTA and Steve 2E0SGG. Other local amateurs included Stella G0EKP and Chris G0EKN from the Thurrock Acorns, and Spencer from the Havering club. Also waving the flag for Region 12, RSGB Regional Manager Steve M1ACB and regular Skills Night attendee from MARTS, Terry G3VFC. Always great to catch up with Essex Ham DX member Edmund M0MNG (who looked a little disappointed not to see Kelly!), and also good to meet Nigel G3YSW for the first time – one of the many trainers in the UK who makes use of Essex Ham's training material.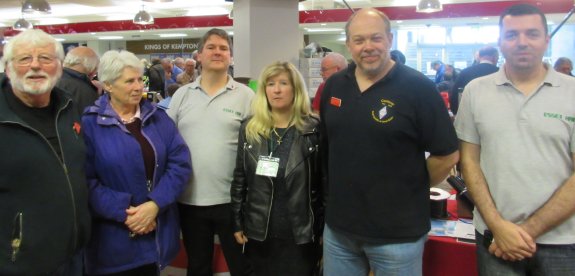 Also, nice to chat to Don from Practical Wireless, the chaps at Waters & Stanton, and to many other amateurs, traders and retailers.
Talking to the organisers
An amazing amount of planning goes into making the two annual Kempton Rallies run smoothly. The events are planned six months ahead and laid out on a computer to get the perfect layout. The rally is run as a professional concern, which is what's expected these days by many of the companies and traders attending.
Pete M0PSX caught up with Paul Berkeley M0CJX from RadioFairs, organisers of the Kempton Rally, to find out why it's such a popular event:
The West London Radio & Electronics Fair is organised by RadioFairs. Their next event is set for April 2016.
Did you to the rally? Please add your thoughts on this year's event below.
Kempton Rally 2015 Gallery
[ngg_images source="galleries" container_ids="60″ display_type="photocrati-nextgen_basic_thumbnails" override_thumbnail_settings="0″ thumbnail_width="120″ thumbnail_height="90″ thumbnail_crop="1″ images_per_page="20″ number_of_columns="0″ ajax_pagination="0″ show_all_in_lightbox="0″ use_imagebrowser_effect="0″ show_slideshow_link="1″ slideshow_link_text="[Show slideshow]" order_by="sortorder" order_direction="ASC" returns="included" maximum_entity_count="500″]
Related Links