This evening, Friday the 6th of April 2013, saw the regular meeting of the Thames Amateur Radio Group on Canvey Island.
Tonight's talk is was the subject of antenna design, and was delivered by the owner of the local antenna firm Innovantennas, Justin Johnson G0KSC.
Justin started by telling us that after experiencing CB radio many years ago, he was hooked, and he's loved playing with radios and antennas ever since. As Justin highlighted from the outset, the antenna is one of the few facets of the hobby where it's possible to equal (or beat) the performance of shop-bought equipment with home-brew kit constructed using freely available information that can be found online.
A well-designed and well-crafted antenna can produce superb results, and Justin outlined a few success stories of his own. He also outlined why antenna patterns are so important, and that his not-insignificant investment in design software has transformed the way that he's able to create both general and bespoke antenna solutions from his base in South Essex.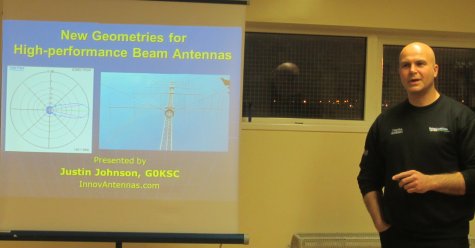 To many amateur radio operators, the Yagi is king, and Justin outlined why he feels that what we believe to be the key characteristics of the Yagi, aren't necessarily always correct. As he says, from a design perspective, when innovating, it pays to think outside the box. He also covered some of the more common Yagi design errors, such as an over-emphasis on forward gain, failure to ensure correct impedance and not checking the design in three dimensions to identify lobe "surprises".
The design software used at Innovantennas doesn't come cheap, and Justin showed the audience some impressive radiation patterns, highlighting that the human hand holding a mobile phone on 1800MHz absorbs more radiation than 900MHz – If you want to get a decent signal to radiate from a handheld mobile phone – stick with o2 and Vodaphone.
Justin then outlined some Yagi-specifics, such as OP-DES (bending the driven element), and LFA (the Loop-based Yagi)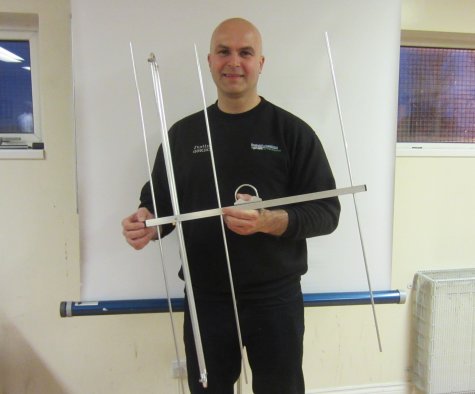 Justin wrapped up by talking about his experiences of EME – Earth-Moon-Earth, which certainly stimulated lots of interest from the audience. Justin spoke about getting his first contact with a Russian station via a bounce from the moon, which was achieved using a weak-propagation data mode, plus the joys of hearing a reflection with the 2 second round-trip lunar delay.
A fascinating insight into antenna design, with a nice bonus for one lucky club member…
Innovantennas Raffle Prize
Full marks to Justin for coming up with the perfect raffle prize for the Canvey-based club. Justin kindly donated a 4 element 144MHz super-light Owl Yagi hot off the factory floor to the Thames ARG raffle. The prize was picked by a very happy (and surprised) Peter Sanderson to help further his interest in amateur radio.
Thames ARG Club Night
The star attraction for the evening was obviously the talk by Justin G0KSC. In addition to this talk, and the raffle, the ever-present array of tea, coffee and cakes was very welcomed on the chilly April evening (thanks to M6JNX for the bread pudding!)
Norman M0FZW also outlined plans for what looks to be an interesting "Radio & Fishing Weekend" in May. From the 15th to the 19th of May 2013, caravanners from the club will be located in Downham, close to Hanningfield Reservoir for a long weekend of fishing and radio. You can find out more by contacting Norman Crampton M0FZW (QRZ Contact Details for M0FZW)
Norman was also able to provide the assembled audience with an update on the rather temperamental Essex repeater GB3DA. Due to various administrative hurdles, access to the site in Danbury is proving to be a problem. It seems that the Essex Repeater Group is working to address the problem, but it's unlikely to be a quick fix. For more details, see: Status of GB3DA (April 2013)
More information