Update 10 Jan 2020: GB3DA appears to be back on-air. The RSGB's ETCC page for GB3DA reports that the repeater was "Licensed" on Wednesday the 8th of January 2020.

What happened?
According to the official UK Repeaters site, the NoV for GB3DA expired on 22 December 2019. It was reported to Essex Ham on Friday the 3rd of January 2020, that the official RSGB ETCC website entry for GB3DA was reporting:
"THIS STATION SHOULD BE NON-OPERATIONAL AS THE KEEPER NoV HAS EXPIRED
IT MAY BE AN OFFENCE UNDER THE WIRELESS TELEGRAPHY ACT TO COMMUNICATE WITH/THROUGH THIS STATION."
According to the ETCC site, the NoV expired on 22 December 2019
See https://www.ukrepeater.net/my_repeater.php?id=752
When this was brought to our attention, we contacted ERG, who were already aware of the issue. Our thanks to Steve for raising this concern in our Groups.io chat group.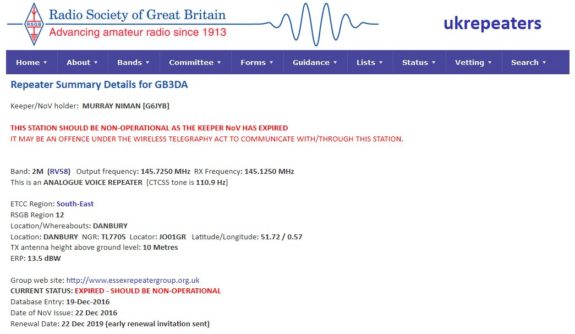 Update 04 Jan 2020:
In response to the online comments about our reporting of this item: For the avoidance of doubt, Essex Ham's reporting of this issue was done following a group message from a member in our Groups.io mailing group at 15:55 yesterday. This was the first that we were aware of the matter. We contacted ERG promptly to make sure they were aware of this, which they confirmed that they are. We believe that as GB3DA is the primary repeater for Essex, and carries our nets, it is important that announcements like the one from RSGB/ ETCC are passed on to our members and the wider amateur radio community in and around Essex. The NoV expiry is a public domain matter and we have simply quoted the wording stated on the ETCC website.
To those who feel that Essex Ham has used this as some form of "point scoring exercise", we would remind them that we are supporters of ERG, promote them weekly on-air and online, we rely on their repeaters for our weekly net. Obviously, losing access to GB3DA for our nets does not benefit us, or our net participants. We always have reported on public domain matters affecting DA, such as the recent Fusion upgrade and the ERG AGM.
We stand by our decision to publish this, as we feel that users of this repeater should be aware of the ETCC announcement, and make their own judgement on whether or not to use GB3DA. We feel that it would be irresponsible not to pass on this information or to try to cover it up. Hopefully, this clarifies our position.