The start of a new year means it's time to look forward, and also to review the last 12 months of activity. 2019 was another busy year for Essex Ham. Here's a quick look at what we got up to:
Once again, we ran several successful events at Galleywood Common, which are always a good opportunity to play radio, learn new skills, try new things, and socialise.
As is tradition, we've put together a montage of the year's activities – have a look at what we've been up to…
Essex Ham Video Review of 2019
We were again on-air with GB callsigns for St George's Day and the June Summer Solstice, and this year ran events to support 50 years since the lunar landing.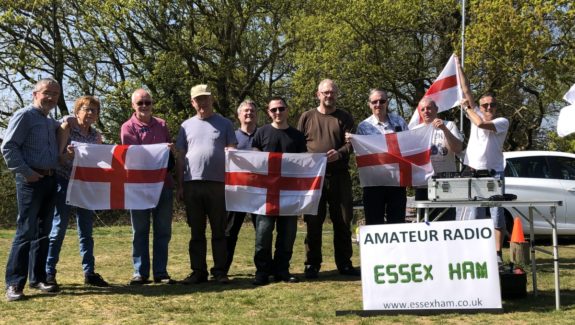 Essex Ham was approached by David Whitehouse, author of a book on the Lunar Landings, and we were able to help to facilitate getting his name sent to the moon, courtesy of a moonbounce event organised by Tom M0ABA from the Essex DX Group.
Essex Ham was approached to provide some technical advice by London's Tate Modern, for an exhibit called Ten Minute Transmission, with live signals from the ISS.
We were at the Basildon Street Science event in July to promote the hobby, getting the local mayor and MP to try amateur radio.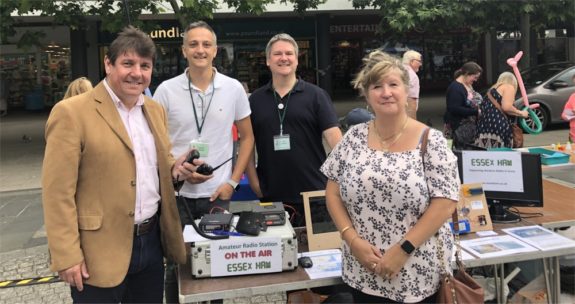 In June, Dorothy M0LMR gave a talk at the "Women in Tech" event in Southend.
As always, we supported both of the Acorns 2m Activity Days, & were active for the VHF National Field Day.
Essex Ham was proud to be awarded the Region 12 Club of the Year award, and to receive third place as National Club of the Year at Hamfest, where Dorothy M0LMR also received an award.
At the RSGB Convention, there was much discussion about the future of clubs, and Essex Ham was mentioned at a couple of talks.
We were in the press after running a county-wide net to spot and track the D-Day Flyover in June. We're still working with GB1NHS, with a few interviews about amateur radio being recorded at Bletchley Park for use on hospital radio.
And we were again invited to promote amateur radio at the March 2019 Southend Raspberry Jam.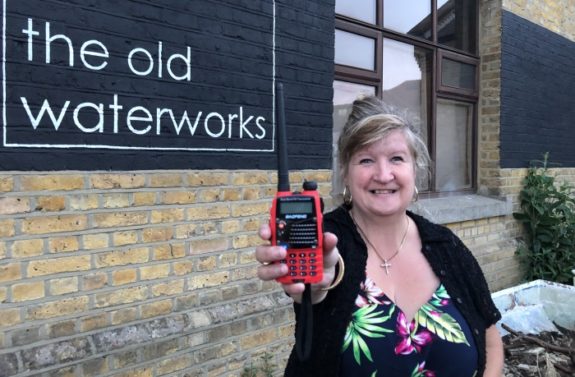 In October, the team was once again invited to take part in a large and very busy JOTA activation at the Belchamps Scout Activity Centre, with an estimated 200 cubs & scouts in attendance over the two days. BBC Essex visited as part of their Essex Quest, getting some PR for amateur radio in Essex as well as JOTA.
It's always great helping people to get their licence, and August 2019 we worked with G8BBC to get BBC World Service Technology Presenter Gareth Mitchell licenced and able to use the shack at BBC's Broadcasting House. We trained Gareth online, held the practicals at the BBC, and the exam at our Essex Exam Centre – one of the last exam sessions before the syllabus change.
Also in 2019, the first Essex Ham kit, in the form of the Hamtronics UK Repeater Timeout Kit. Out thanks to Andrew M0ONH
In August of 2019, Pete M0PSX and Kelly M6KFA were out on Radio Caroline – thanks to Keith G6NHU.
Essex Ham was also at various ham events, supporting other clubs in the region. We had a table at the SEARS Canvey Rally at their new location, at two Suffolk RED events, and at Langdon Hills ARS Progression Nights and Laindon RC club nights.
The Monday Night Net continues to be a big focus, with just under 110 unique callsigns joining in 2019. Thanks to Dorothy M0LMR for running the monthly YL net and to Rachel G6AMY and Andrew M0ONH for chairing on a Monday, as well as Pete M0PSX.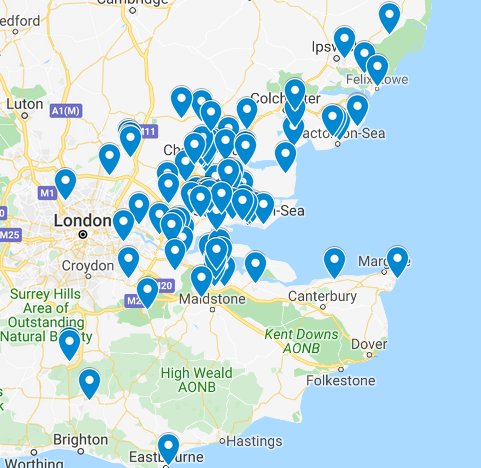 Our free Foundation Online course took a break in August, to allow changes to be made for the syllabus changes. Despite the break, we enrolled just under 400 candidates nationally in 2019.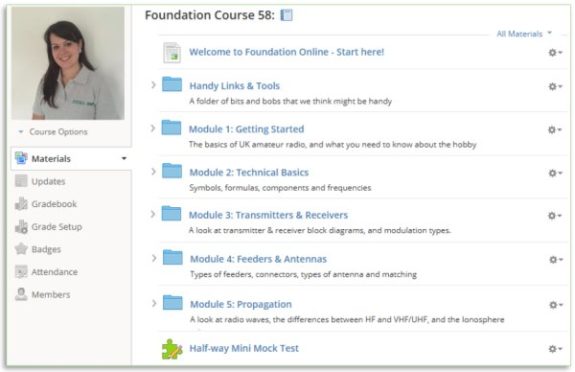 We'd like to thank everyone who supported us during 2019, taken part at an event, joined us on the air or been active on our site.
Thanks again to everyone who's supported us, and helped us to spread the word about amateur radio. Here's hoping for a busy, and positive, year of amateur radio in Essex in 2020!
Related Links