Saturday the 4th of July 2015 saw trainers from Essex, Suffolk and Norfolk meet up for an Exam Workshop in central Essex.
The workshop took place at BAE Systems in Great Baddow, near Chelmsford, with the aim of encouraging clubs and amateurs to submit potential exam questions to the RCF. Approved questions are added to the bank of possible exam questions.
The session kicked off at 10:30, with 16 amateurs in attendance, including trainers from the following groups:
Chelmsford Amateur Radio Society
Leiston Amateur Radio Club
Norfolk Amateur Radio Club
South Essex Amateur Radio Society
Thames Amateur Radio Group
Thurrock Acorns Amateur Radio Club
Essex Ham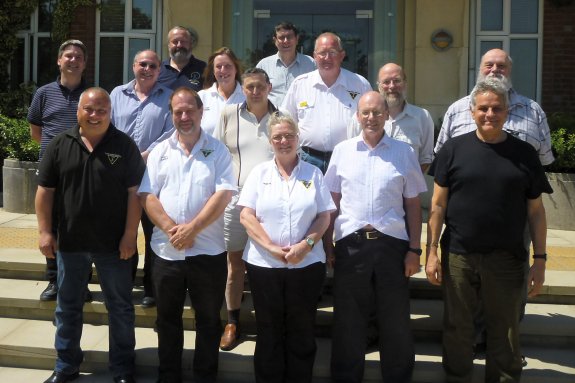 The session was led by Alan Betts, G0HIQ from the RCF Exam Committee and started with an outline of what makes a good exam question. Of more interest, were some examples of what makes a bad exam question, with a presentation showing examples of poorly-worded questions that are ambiguous, misleading, confusing or irrelevant. Alan also explained that the exam questions and assessments are aimed at more than just factual recall, but comprehension and application… in other words, genuine understanding of the subject material.
Armed with some basic guidance on how to write questions, the attendees worked in groups to create questions, which were then critiqued by the other groups to hone in on a style for writing good questions.
Questions at all three licence levels were written and reviewed, in a few cases, causing some controversy. As is common with any group of amateurs, questions involving licence conditions were much debated, with Alan reminding us all that it's important that exam questions test the wording of the licence conditions, not their interpretation – the classic example being the requirement to test your station "from time-to-time". The thorny subject of Maritime Mobile also came up, possibly stimulated by the recent Operating in Territorial Seas discussion on the Essex Ham site.
Reviewing and critiquing questions does get you thinking about the structure and relevance of questions, and versions of questions used in CARS and SEARS mocks got an airing, as did questions from Essex Ham's Foundation Online question bank and one of Murray's more challenging questions from a recent CARS Skills Night.
The session wrapped up with some questions and discussion around proposed syllabus changes, and the changes that take effect from October 2015 which reflect this year's wording changes to the Ofcom licence.
Writing questions
If you're interested in writing questions, you can find guidance here: RSGB Exam Question Writing
A £20 RSGB book voucher is available for each batch of 10 accepted questions, which become copyright of RCF/RSGB.
Chain Home Tower Tour
The BAE site in Great Baddow is home to the last remaining complete Chain Home Tower. Thanks to Murray G6JYB for the tour, and to Andy G1GKN for talking about the history of the tower and the vital part it played in the Battle of Britain. The tower at Great Baddow was formerly sited in Canewdon, and is now a familiar historic Chelmsford landmark.
More information: Chain Home on Wikipedia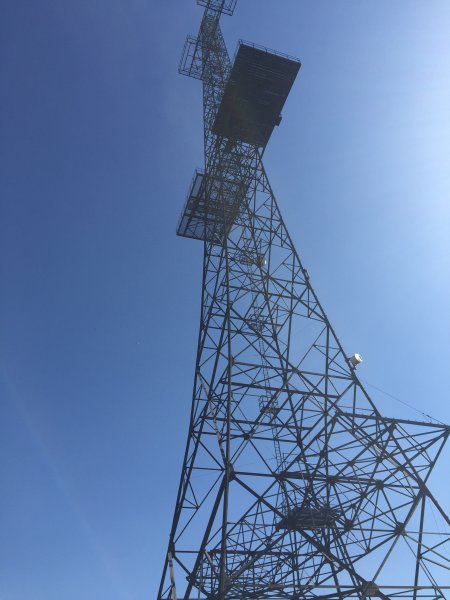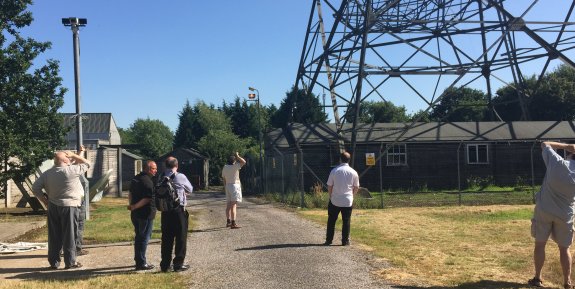 Thanks to Alan G0HIQ for running the session, and to Murray G6JYB for providing the excellent venue for the day's workshop. Hopefully attendees will be busily submitting questions to test the next generation of amateurs.
Related Links