Every year, we collate stats on the number of radio amateurs in Essex, plus other handy data about the shape of the hobby locally. As of 31 December 2016, this is what our stats show.
This is only based on data sourced from public domain resources, so please take with a pinch of salt.
Amateurs in Essex
Number of amateurs in Essex: 2689
Foundation: 422
Intermediate: 220
Full: 2047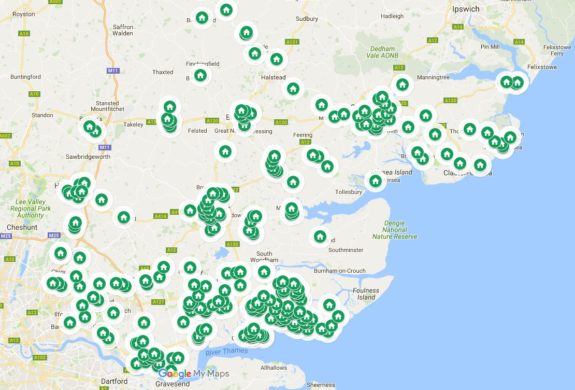 Callsigns in Essex
Number of unique callsigns in Essex: 3078
Number of club callsigns: 31
Clubs in Essex
Number of amateur radioclubs, groups & organisations in Essex: 22
Traditional clubs: 18
Online (Virtual) clubs: 2
Non-clubs: 2
Based on best estimates, here are some stats about traditional clubs in Essex:
Members of one or more club: 342 (13% of Essex amateurs belong to a traditional club)
Average club membership: 18 people in Essex per club
Based on published stats for online (virtual) clubs:
Members of one or more online (virtual) club: 375 (Essex only)
Average club membership of an online (virtual) club: 206 people (Essex only)
Club Websites & Social Media
Clubs with a website: 85%
Clubs using Twitter: 65%
Clubs using Facebook: 45%
Clubs with pages promoting the hobby: 10%
Clubs with pages promoting training: 50%
Sites correctly discoverable in Google: 35%
Sites passing "mobile-friendly test": 47%
There's been a slight improvement in online promotion of the hobby in Essex since we checked last year, but the profile is still pretty low. For information, see last year's Better Club Websites for Essex feature.
Training
According to the RSGB, 2,174 people sat exams passed an amateur radio exam in the first 11 months of 2016. Here are some numbers for Essex (again, based on best info available)
Number of clubs running training: Between 5 and 8
Foundation passed: 36 confirmed (Source: CARS, HADARS, SEARS, TARG & TAARC. No data for CRA, HADARC or LEFARS)
Essex people enrolled into Foundation Online course (Jan-Dec): 33
Well done to the clubs, trainers and amateurs in Essex who've worked hard to promote the hobby and bring new amateurs on board in 2016
Hopefully some interesting info and stats, for those interested in such things!
Related Links