Thanks to everyone who came along to support May's Essex Skills Night. This busy event took place at the Danbury Village Hall on the 15th of May 2017. Here's our summary of the evening's event.
Looking back through the Skills Night records, this was the busiest Skills Night held in May in the event's history. This month, 56% of attendees were Foundation, Intermediate or SWL.

The evening consisted of the following demos and activities:
Logging with N1MM:
Dean G4WQI brought along a laptop with the popular logging application N1MM, and spent the evening demonstrating how to use this package to log contest QSOs efficiently. You can find out more about this package here: n1mm.hamdocs.com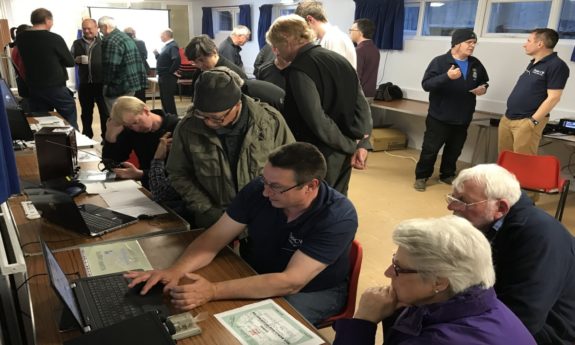 RTTY Date Mode:
Following a request in our Skills Night Survey, Richard G7OED kindly offered to run an RTTY demo at this month's Skills Night. With not a lot of active RTTY traffic, Richard also demonstrated other data modes and explained the basics in setting up data, which applies to just about any data mode.
EchoLink:
With the Chelmsford MB7IDA gateway now back on-air, you can get talking around the world without HF or a DMR/D-Star handheld. Thanks to Jim 2E0RMI for demonstrating how to get started with EchoLink. To prove it worked, Jim has a chat with Pete M0PSX, with Pete on the mobile Internet and Jim using a Slim Jim to access MB7IDA on 2m.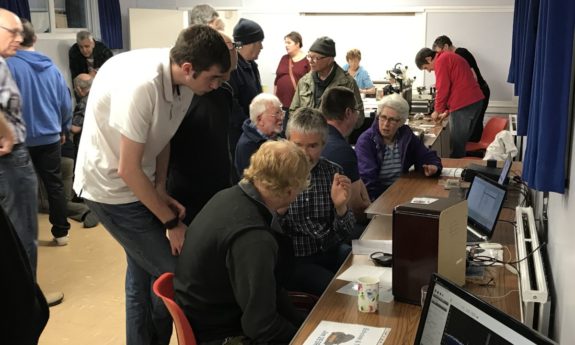 Essex CW Club:
As always, the Essex CW Club were helping to promote and encourage the Morse mode at this month's Skills Night.
Testing, Testing:
Mike G4NVT brought along his new piece of test equipment, the Signal Hound USB-SA44B — 4.4 GHz Spectrum Analyser. This month, Mike was joined by Ed G8FAX.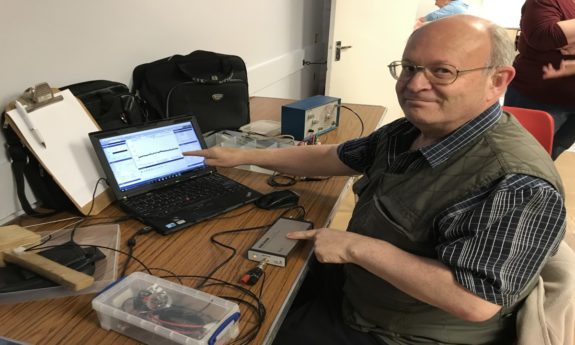 Getting Started with Essex Ham:
On the Essex Ham table this month, a demo of the RTL SDR dongle and FL-Digi. Newcomers and first-time visitors could take away copies of the Getting Started guides, and there was a rolling video of Essex Ham's recent activities playing on our Raspberry Pi Zero video player. Also, details about the online Foundation training course, plus the event's wi-fi.
Great to be visited for the first time by two candidates on the current Foundation Online course, Martin and Ian. Thanks to Ian for saying "Nice to meet you Pete and Mrs ham too. Will definitely pop along again when I'm a bit more confident in what I'm looking at."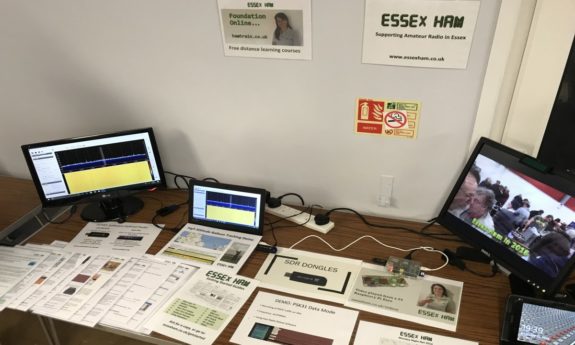 Auction:
New for May 2017, for the first time at Skills, there was an auction. This was run by David M1ECC and Mike G4NVT. The auction was run just after the Quiz. As this was the first time that an auction had run, only three items were up for auction, and Mike did a fine job of taking bids and encouraging bids from those interested in the proceedings.
Proceeds from this month's auction went to the Chelmsford Amateur Radio Society, at David M1ECC's request.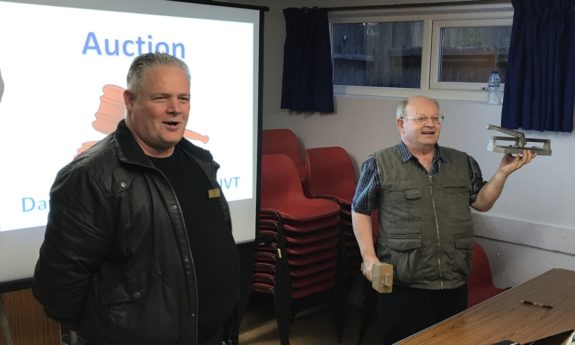 Callsign Badges and Pens:
Skills Night regulars Jim 2E0JTW and Glynis 2E0CUQ were on hand with their engraver to create callsign badges and gold-plated engraved pens on demand.
CARS Quiz:
This month's quiz was hosted by CARS Vice President Murray G6JYB – just for fun.
Logistics
As always, a huge personal thanks to Ann, Myra and David for their continued logistical support in the kitchen providing the free tea and coffee. Also, to Essex Ham's Sarah M6PSK (the event's "dedicated greeter").
Thanks all, and 73,
Pete M0PSX
Event Photos
Related Links