Today, Saturday the 6th of September 2014, was another opportunity for Essex Hams to meet up, play radio, and get some time for some technical experimentation "in the field".
The venue was the very popular Galleywood Common, near Chelmsford, and the event was a short notice get-together promoted by Essex Ham late on Friday via our website, Twitter, Facebook, GB3DA and our events calendar.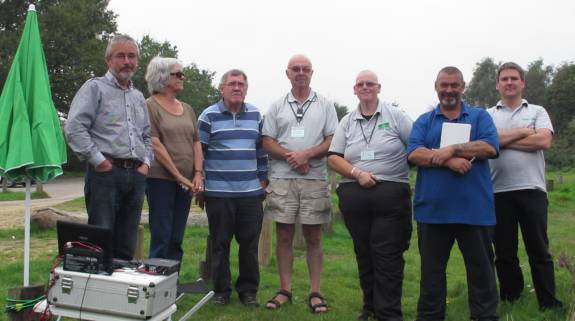 A total of four stations were set up, three on HF and one on 2m. Best Station award goes to Mark M6RKC for his impressive frame, which houses an array of rigs, power connectors, antennas and parasol holders.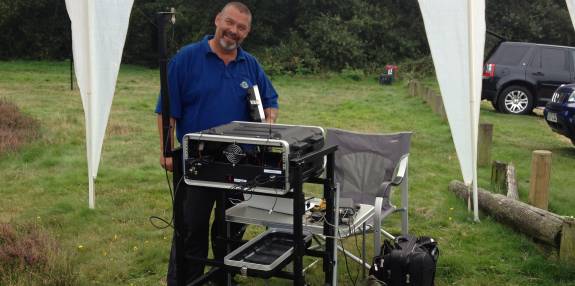 Rather than being all about the contacts, the theme for the day was experimentation and testing. Mark M6RKC was keen to try out a data interface to get running with PSK31, and Pete M0PSX was more interested in SSTV, as the International Space Station was transmitting images during the day's passes – something it doesn't do very often. Here's a photo of Pete receiving an image of Yuri Gagarin sent in one of the ISS passes: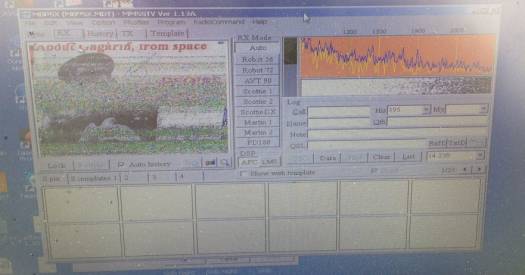 In the third pass of the day, at 3pm local time, Pete M0PSX was able to download a clearer picture from the ISS, received with his homemade 2m slim jim antenna up a 5 metre fishing pole: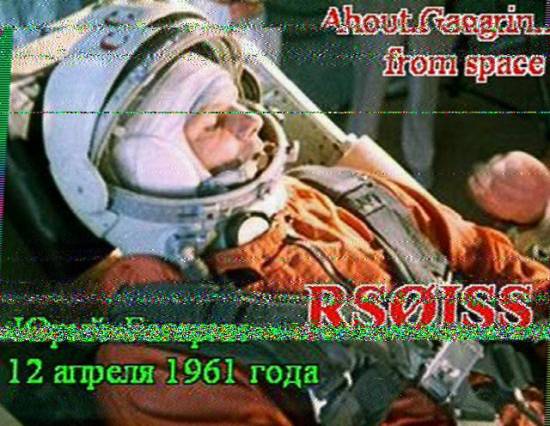 Pete's recently completed a short write-up on how to make a Slim Jim antenna, and the field trip provided Pete the first chance to test the 2m and 70cm antennas. The 70cm will be used at an Essex RAYNET event next weekend, supporting Farleigh Hospice. Thanks to Mark M6RKC's antenna analyser, we were able to confirm that the SWR is well within the "good" range for RAYNET operations on 70cm.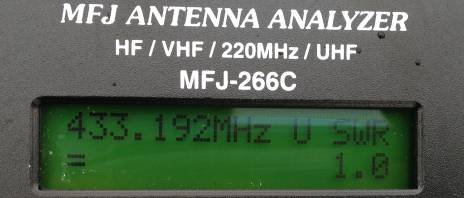 With 7 antennas in the air at one point, several bands and setups were active: HF, VHF and UHF voice (plus a few bursts of 4 metres!), SSTV, JT65 and PSK31 – No CW today though.
As well as testing, tuning and trying to make contact during a busy weekend contest, the team had a good catch-up, mixed with lots of tea, coffee and biscuits, and even a little musical interlude towards the end!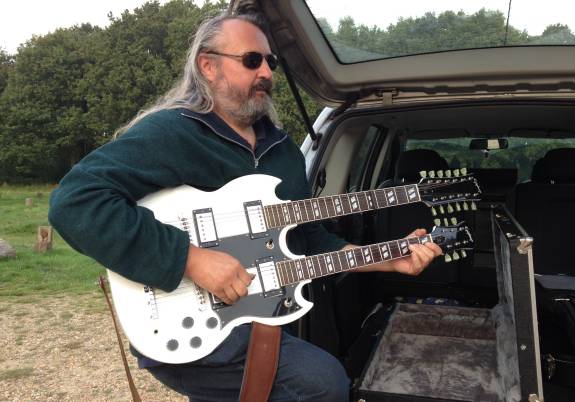 Amateurs operating with fishing poles in the air always raises a few eyebrows – today we were not the only ones doing odd things in the park… a mini-skirmish was taking place close to our operating point. I've still got no idea exactly what was going on, but it seemed involve PMRs, camouflage, tree-climbing and clipboards. A far for interesting activity to watch than amateur radio.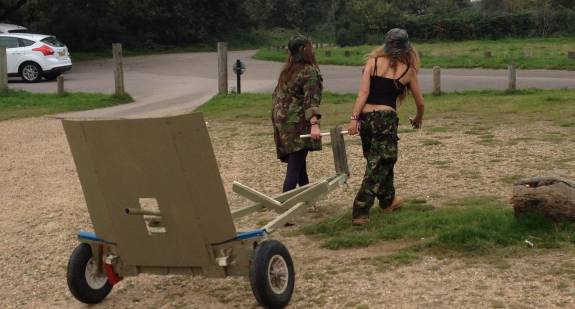 Thanks to all of those who attended, worked us, or waved at us – a good fun gathering, which is what it's all about.
Related Links