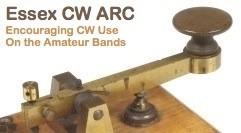 This October, the Essex CW Club will be running another Boot Camp. This follows last year's first, and very successful event. Places are limited, so please book a place quickly if you want to attend. Here's the summary of the event, kindly supplied to us by ECWARC:
Boot Camp 2018
This years' ECWARC Boot Camp is on schedule for Saturday 27th October 2018, in Witham
The doors will open at 08:30 for registration. The meetings begin at 09:00 please be sure to arrive in plenty of time to register. The day finishes at approximately 16:30.
Your main decision is to decide which group you want to work with: under 10 wpm, up to 24 wpm, and 25 wpm up. Within each group, the aim is to show you how to progress to the top of that group and eventually move into the next group. Note that at times all groups are combined for a number of talks and group CW activities.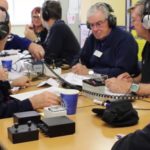 This is quite an intensive day. If you become tired or don't want to do a particular activity, you can opt out. Have a coffee, or sit in on the station we'll have on the air. There will be someone to talk to about setting up and operating. You will be able to use the station yourself, supervised or not as you wish.
If you plan to take the RSGB Morse test, please practice up to a speed of at least 2 wpm faster than the test speed you have nominated. It will also help the examiner if you can have your name, address, and call sign written out on a piece of paper in advance. We have only planned an hour for this activity as the number of delegates indicating interest was low. If the numbers swell on the day, it will have to be first-come-first-served.
Finally, what to bring? All of the following:
Morse key with 3.5 mm jack and 3.5/6.0 mm adaptor
High impedance headphones, same jack requirements.
Writing pad and pencil/pen
Name badge with callsign
Registration Fee £10.00 please bring correct amount (cash only)
Plastic cups will be available. If you prefer something more solid, please bring your own mug.
We will provide plenty of drinks, cakes, biscuits, and nibbles. If you require a more substantial lunch, please bring your own. Bear in mind we are only taking a 30-minute lunch break.
This is going to be a very enjoyable and rewarding day. You will be able to put faces to names and call signs and meet new fellow-enthusiasts. But, most importantly, you will have a clear picture of your CW strengths and weaknesses and know how to fix and exploit those to improve your operating speed and technique.
You will also be able to obtain information and answers about things that puzzle and confuse you: should I use a paddle key? What are all those different types for? How do I set up my straight key? What is the correct procedure for contesting versus regular QSOs? Which is the best CW software? And many more.
Looking forward to meeting with you all and to a great day.
73 Dean G4WQI ECWARC Chairman.
To book, please email [email protected]
Venue address:
3rd Witham Scout & Guide HQ,
Rear of Spring Lodge Community Centre,
Powers Hall End ,
Witham, Essex CM8 2HE
Involved with a club in Essex? We can help to promote your club's event to the amateur radio community. Send us your events news, and we'll help to promote your event to amateurs from across Essex and beyond. If your club's events aren't being featured, get in touch with Essex Ham, or find out more about how Essex Ham supports local clubs.
Related Links