Looking back on the launch of a local club back in 2012, and post-Covid clubs – Pete M0PSX
One of the joys of modern life is that our friendly computing devices have the habit of popping up photos from our past with "this day in history" memories. My flashback picture of the day comes from 9 years ago, on the 15th of September 2012 – the launch day for a new amateur radio club in Essex – Thames Amateur Radio Group.
For those not in the know, TARG was conceived back in June 2012 by a band of three new, green and very keen amateurs – Mike 2E0NGY, Tom M6BCK and myself. Looking back through the archives, early names for the club included TEMRA (Thames Estuary Mobile Radio Amateurs), TGARG (Thames Gateway ARG) and NHRG (Nextgen Ham Radio Group) with a blue logo, before the three of settled on TARG with the yellow logo used at launch. With the addition of Sarah M6PSK as Treasurer, the group was able to form. Between June and September 2012, a full committee of 8 was assembled, a bank account opened, web domains registered, the club was affiliated to RSGB, clothing was embroidered, a Constitution was written, club callsign was sorted, a meeting venue was found, and we even had a PR photoshoot day.
Today, exactly nine years ago, amateurs in Essex got to hear of TARG via a launch event at the community radio station, Phoenix FM in Brentwood, including stations set up both inside and outside the radio station, and on-air interviews with the radio station's presenters. Essex Ham was already up-and-running by 2012, and here's how the site covered the launch back in 2012 (full story):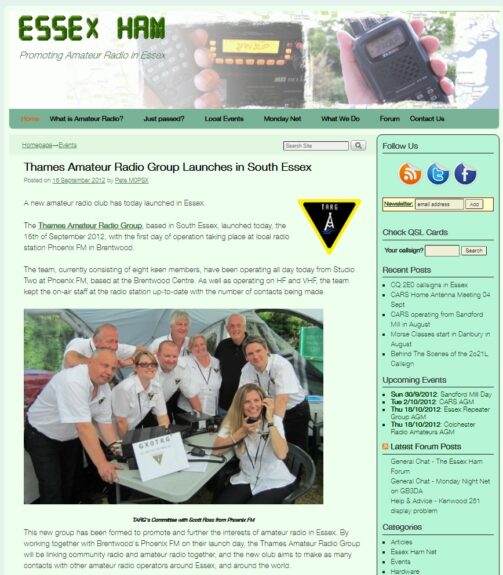 Forming a club was quite an involved process, and quite an eye-opener. In the first year, TARG club held several club nights and field days, was one of the few clubs to have a permanent shack, and started running Foundation training courses. Sadly, the original three founders are no longer involved with the running of TARG, but it's rewarding to know that after laying those solid Foundations, nine years on, TARG continues to be a busy and popular local club, following the founding principles laid down ahead of its launch 9 years ago. Essex Ham too has grown significantly since 2012, now having over 2,600 members worldwide, and having helped thousands enter the hobby via online training.
Since 2012, there are been quite a few club changes in Essex – new groups have come along, including the Thurrock Acorns (2013), the Essex Amateur Radio DX Group (2014), the Secret Nuclear Bunker Contest Group (2015), Langdon Hills Amateur Radio Club/Laindon Radio Club (2018-2021) and the BAE Systems Great Baddow Amateur Radio Club (2018). We've also seen the success of the Essex Skills Night in Danbury and the Essex CW Club's annual Boot Camp.
Also 9 years ago – the 2012 London Olympics had finished, and Apple was about to launch its flagship iPhone 5, the tracks "Somebody That I Used to Know" and "Call Me Maybe" were the year's big hitters, and Windows 8 was a few weeks away from launch.
Fast forward 9 years
Of course, the Covid pandemic has taken its toll on amateur radio – 18 months after the initial lockdown and things are slowly returning to normal. Some clubs have started up again, albeit with reduced attendees coming to meetings- other clubs are playing it safe and sticking to online meetings for the time being. We've seen a few field events, although the bulk of the /P season is now behind us. Training is still an area of concern for some clubs, we understand, as exams shifted to 'online' over the pandemic. Over 4,000 people have taken their Foundation exam online between April 2020 and the start of September 2021 – double as many newcomers compared with previous years. There's now some question marks regarding the future of training and exams at local clubs, with some hoping to return to traditional club-based training/exams, and others looking to focus on supporting the newcomers who were trained during lockdown without meeting others.
An interesting time for clubs, with lots of opportunities to adapt to the post-Covid world as amateurs thoughts return to the idea of going back to clubs and rallies.
If you have any thoughts on returning to rallies and clubs post-Covid, or what you'd like to see clubs (both physical and online) doing for the community going forward, I'd love to see your thoughts below.
73 and stay safe,
Pete M0PSX, founder, Essex Ham
Related Stories