This Sunday, the 27th of April saw a Multi-Tx Radio Orienteering event in Danbury. Essex Ham went along to find out more.
Radio Direction Finding?
Always keen to try new aspects of radio experimentation, we were invited to give radio orienteering a try this weekend in Danbury. Essex Ham's Pete M0PSX went along with daughter Kathryn, and met up with local amateur James 2E1GUA who was also out giving direction-finding a try for the first time.
A big thanks to the team for making us feel so welcome! Our host for the day was Roy G4JAC, who came along to the April 2014 CARS Skills Night to explain more about radio orienteering.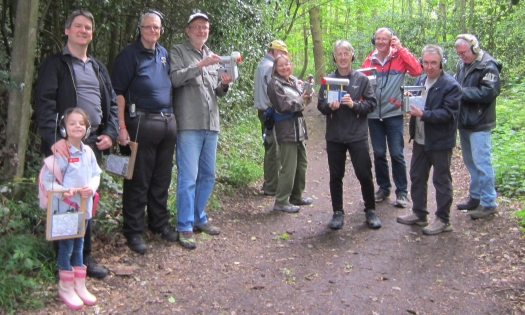 The hunters met at Blake's Wood in Danbury to receive instructions, then moved off to the start of the hunt which took place in the Lingwood Common woodlands.
A total of ten transmitters has been secreted around the area, transmitting on four frequencies close to 1960KHz. By these transmitters are "triffids", which house a hook with removable numbered tags – the aim of the game is to collect one tag from each of the locations and return to an agreed meeting point to post the tags in your assigned box before the allotted time is up. Points are awarded, and there's an overall winner announced after the points have been tallied.
Tracking down the transmitters is fun. Each one is given a letter, and competitors are given the frequency and the one-letter Morse ident for each transmitter – the transmitters operate on timers, so they're not always on. Essentially, it's a case of tuning to a transmitter's frequency, waiting for it to start transmitting, then turning your radio receiver 360 degrees to find the 'null', where the tone is weakest – you then head in that direction for a while and wait to the next transmission.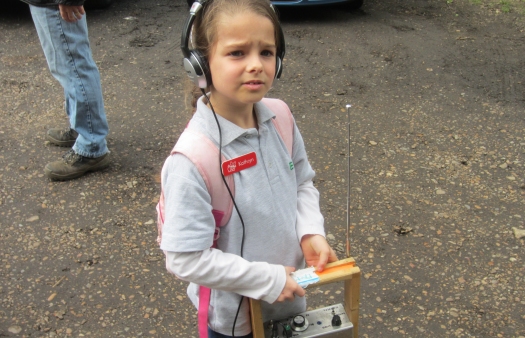 When you're close, the signal is so loud, you change the receiver's sensitivity to get a better bearing, then start hunting visually. Sounds a little tricky, but it all makes sense when you get going. So we didn't get completely lost, we were paired with Gary, our guide for the day – something we'd recommend for finding your first transmitter. Here's a picture of Gary holding one of the concealed transmitters: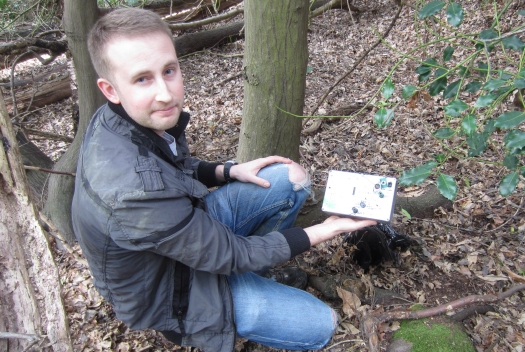 On today's hunt, there was a mix of easy stations (colour-coded in green), and some more challenging ones, and we'd quite often come across other competitors running around tracking down the signals. The transmitters were scattered over quite a wide area of the woods, meaning quite a lot of walking was required, plus a few double-backs when we'd gone too far. The first find was fairly easy, and those who take the hobby seriously are clearly very proficient in being able to get their bearings, listen for the tones and get precise bearings.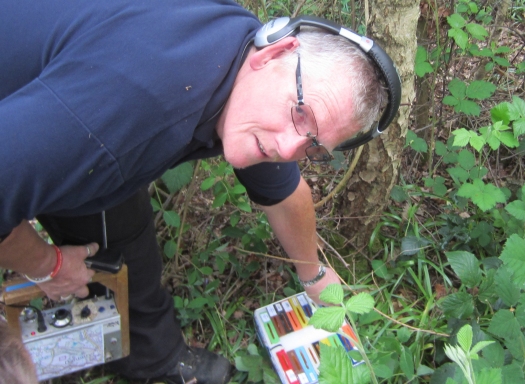 Of the 10 transmitters, we were able to track down 6 of them before setting off back to Point A. Two competitors were already there, having found all 10, and others drifted back. Time is a factor, as tags not placed in the box when the event closes don't count. It looks like the first person back was Philip G0NXH, but that doesn't necessarily make him the winner, and as a regular to the hobby, as in golfing, he has a handicap. Results are due to be posted to the event's website in the next 48 hours – Essex Ham won't be scoring very well, but for our first event, we had a lot of fun, and burnt off a new Easter Egg calories.
We recorded a couple of interviews during the event, and we'll be adding these to the site shortly – so come back soon to find out more about RDF (Radio Direction Finding).
Thanks again to Roy, Gary and the other hunters for making three newbies feel welcome – a good fun hobby that gets you out in the fresh air – a lot tougher than Geocaching, and a lot of fun!
For details of this and other events, go to East Coast Multi-Tx Radio Orienteering
Photos from today's event
Related Content
We met up with some other radio orienteers at the 2013 RSGB Centenary event – Here's our short video and interview: