This coming Monday, the 16th of March is the next Skills Night, hosted by the Chelmsford Amateur Radio Society.
The Skills Nights continue to be a very popular event with amateurs from Essex, Kent, London and beyond descending to Danbury for a mix of hands-on demonstrations, activities, show-and-tell, tea and chat.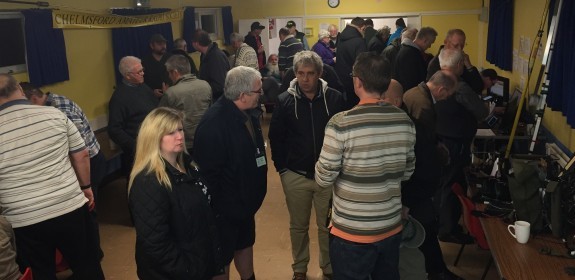 If you've been along to a Skills Night before, you'll know that the team aims to bring you a good mix of demonstrations, an opportunity to ask questions, and plenty of time to chat and swap ideas.
Here's what's in store for the March 2015 Skills Night:
Antennas & Tuners: How to use L and C to resonate an antenna, and help with simple ATUs – Peter G0DZB
Satellites: Getting started with working amateur radio satellites – Steve M0SHQ
Radio Programming: Got a handset that needs setting up? Get your handheld configured with local repeaters – Baofeng & Yaesu modelsa speciality – Also Yaesu stations such as the FT-817, FT-857 and FT-897. Bring your power lead – Charlie M0PZT
Construction:  Need help with cables & soldering,or looking for a patch lead? Come along! – Peter M0PSD and Chris G0IPU
Morse Arduino & Logging:  A demonstration of some of Charlie's latest projects and ham goodies – Charlie M0PZT
CW – Essex CW Club will be there to represent all aspects of Morse – Keep an ear out for Steve G4ZUL and Rob M0KCP
Solar Eclipse & Antenna Advice: Information and advice from Carl G3PEM
SSTV and SDR Demos: Essex Ham will be demonstrating SSTV image decoding and the £10 SDR dongle – Essex Ham
CARS: Want to join CARS? Membership Secretary  will be on the CARS table to tell you more – James 2E1GUA
Quiz: Test your amateur radio knowledge, just for fun. As ever, Clive G1EUC will be quizmaster – Clive G1EUC
Representatives from CARS, Essex Repeater Group, Essex CW Club and Essex Ham will be on hand to help with questions
The above list is subject to last-minute change.
| | |
| --- | --- |
| Where: | Danbury Village Hall, 2 Main Road, Danbury, Chelmsford Essex CM3 4NQ |
| When: | Monday 16th March 2015 – 7pm to 9pm |

The Skills Night is an initiative from the CARS Training Team, and is supported by Essex Ham.
The Skills Night is free to attend, with refreshments provided. The event is open to all regardless of licence level and club affiliation – If you know someone interested in coming along – please pass this message along.
We hope to see you on Monday from 7pm.
Skills Night Links: