The Chelmsford Amateur Radio club night on Tuesday the 4th of March 2014 was a standing-room only event. Here's a short summary of the evening:
The evening started just after 7:30pm at the Oaklands Museum in Chelmsford with a few short announcements from CARS chairman John G1UZD.
One announcement was to check out a show on BBC Alba, called The Wave Messengers, which includes some amateur radio references, and examples of Morse in use at sea. The show, with subtitles, can be found on the BBC iPlayer – BBC Alba The Wave Messengers
John reported on recent club activity, including February's well attended Amateur Radio Skills Night in February – The next is planned for Monday the 17th of March.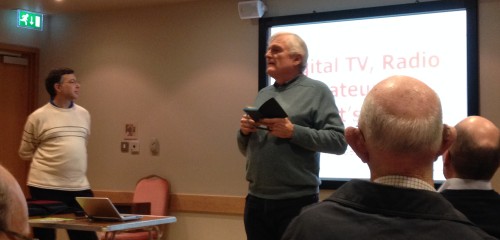 Digital TV, Radio & Amateurs: What's Next
The main event for the evening was the talk on the future of TV and radio spectrum allocation by Murray Niman G6JYB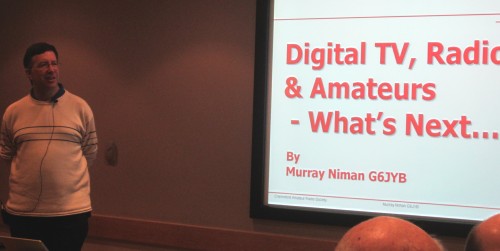 Freeview Switchover
By the end of 2012, the long process of switching over from analogue terrestrial TV to DTT (Freeview) completed, so it was a surprise for many that preparations are in hand for the next switchover. The analogue switchover freed space in the UHF band for the new 4G data services, but with plans well in hand for the 5G network, more of the existing UHF TV allocation will be sold off to free up space.
The upshot is that at some time in the not too distant future, Freeview equipment that doesn't support Freeview HD technology, will become obsolete – We may start seeing the phasing out of the original Freeview SD (Standard Definition) service as early at 2018. With the cost of HD hardware dropping and the phasing in of more HD TV channels, it's likely that many consumers will have switched over to compatible hardware in time for this change.
In other digital TV news, the 4G rollout is proceeding with some needing filters to help prevent 4G data signals getting into the Freeview receiver front-end. Also, those served by the Crystal Palace transmitter see test transmission from "London Live", the soon-to-launch London local TV station.
Murray reminded everyone looking to buy new TV kit to look for Freeview HD and DVB-T2 technology.
Even if you have the latest kit though, don't relax just yet, as 4k TV is coming soon – This needs encoding, and "HEVC" (High Efficiency Video Coding) is to be used to compress the 4k signals.
Digital Radio
As was announced in the run-up to Christmas, the switchover from analogue to digital radio has not been given a date – but that doesn't mean that it's been postponed – and Murray outlined some of the activities in hand to support an eventual switch to digital. A second DAB national commercial multiplex is due to be advertised soon, and there was a mention for "Micro DAB", to allow community station access to transmission over DAB.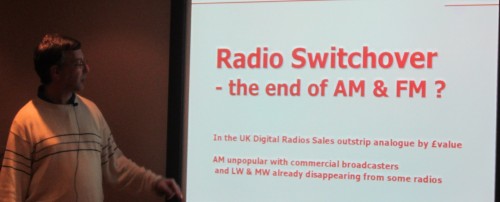 Amateur Radio
Murray outlined a number of digital developments in amateur radio – we're all well aware of Icom's D-star system, and the network of D-star repeaters, 80+ gateways – but DMR (Digital Mobile Radio) was new to many. It makes clever use of time slicing to get two channels for some interesting possibilities. Motorola is driving DMR, and 10 DMR amateur radio repeaters have recently been licensed in the UK. Yaesu has their own system, C4FM, which offers digital voice over FM – No UK repeaters as yet.
Despite the differing standards, the hope is that Internet linking of repeaters and gateways may address standards compatibility.
One ray of hope is that there's a chance that 146-147MHz could become available for amateur use… and Ofcom consultation is imminent, but it'll have to be used for services of value and innovation, not natter. Murray's tip for the killer app is digital colour TV on VHF. Yes please!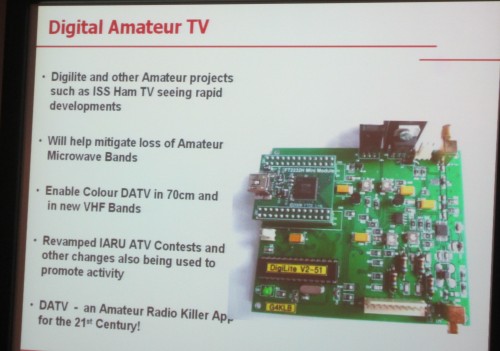 Other snippets
Expect UHF Wi-fi… likely to perform better in the home than the current 2.4GHz and 5GHz wi-fi.
A question was fielded from the audience about the UK's Emergency Broadcast Network – originally AM radio was likely to be the medium by which the Government would communicate with the people at times of national emergency – it seems that the UK no longer plans to use AM in these circumstances, with the days of LW and MW transmissions now numbered. In the process of preparing this write-up, I'm struggling to find any information of what systems are in place for contingency broadcasting – if anyone can recommend any good reading material or links on this, please add a comment below.
Questions from the floor included the cost of in-car DAB, the fact that shops are still selling SD Freeview receivers, and a discussion around use of satellites – it seems these may not be the answer, and fibre connection to each home may be the long-term aim for a connected Britain.
Murray wrapped up with a reminder that Windows XP support is about to be discontinued – time to get those last updates before the plug is pulled on XP updates and fixes.
Wrap-up
Thanks to Murray and the CARS team for an excellent club night – a rough head count showed almost 60 people attended, and rightly so for such a key topic – the future of the radio spectrum. Nice to see the return of a few familiar faces, and also some of the newly-passed entrants to the hobby, including Terri, Annie and Wayne, successes of recent CARS, LEFARS and TARG courses – 20 new licencees so far in Essex this year (that we know of)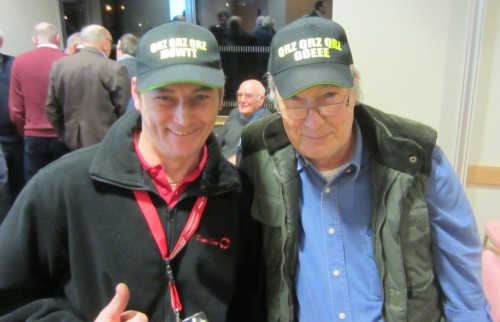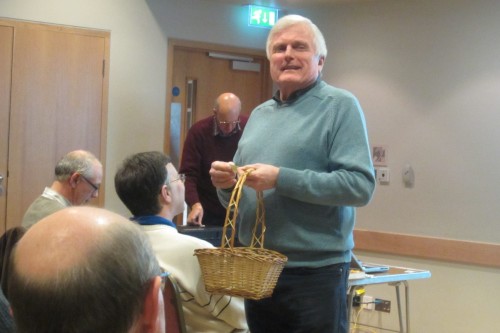 The next CARS club night is on the 1st of April 2014 – Carl G3PEM on 'Marine Radio'. There's also the Skills night on the 17th of March.
More details of upcoming events from CARS, go to www.g0mwt.org.uk/future-meetings
Pete M0PSX