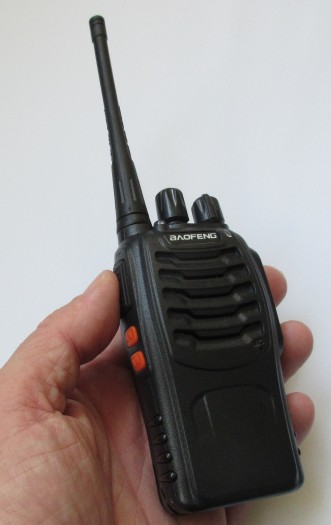 A handheld amateur radio transceiver for under a tenner…
When first launched, the Baofeng BF-888S grabbed the headlines recently for being available on eBay for under £10. At the time of writing, the price is a daft £6.99, plus £3 postage from China – the price of a couple of aerial connectors!
If you don't want to wait weeks for a delivery from overseas, you can get a Baofeng BF-888 shipped from the UK for not much more (See Baofeng 888 at Amazon.co.uk)
Here, you'll find a short review and some information on using this 70cm radio.
About the Baofeng BF-888S
Before we start – note that this radio has some important limitations for amateurs:
It only works on the 70cm band
It only has 16 channels
You define these channels by programming the radio from a PC
There is no screen, and no menu access to settings such as squelch
The price doesn't include the software programming lead, which is pretty much a "must"
Baofeng BF-888S Specs
| | |
| --- | --- |
| Band: | 70cm-only |
| TX Power: | 5 watts |
| Frequency Range: | 400-470MHz |
| Tones: | CTCSS and DCS |
| Dimensions: | 115 x 60 x 30 mm |
| Battery Life: | Quoted as 8 hours |
Using the Baofeng BF-888S
For its price, and subject to the limitations we've outlined, it's an acceptable radio. With only 16 channels and no easy way to change anything, you may think that it's pretty useless and that you'd be better off spending an extra £15 to get a Baofeng UV-B6 (2m/70cm, plus a screen). That may be true, but if your needs are simple, or you're looking for a backup radio, this could be an option. Here are a few possible uses for a radio like the BF-888S:
Accessing or monitoring one or two local 70cm repeaters
Chatting to other amateurs locally on 70cm simplex (using dedicated channels)
Use with a service such as RAYNET, where only one or two frequencies are required
Use with another type of licence, such as the Business Radio (Simple UK) from Ofcom
The radio comes boxes with a mains charger, belt clip, strap, earpiece & mic, battery, small 12 page manual and 11cm SMA antenna. Like many other Baofeng radios, it has a panic alarm and an LED torch.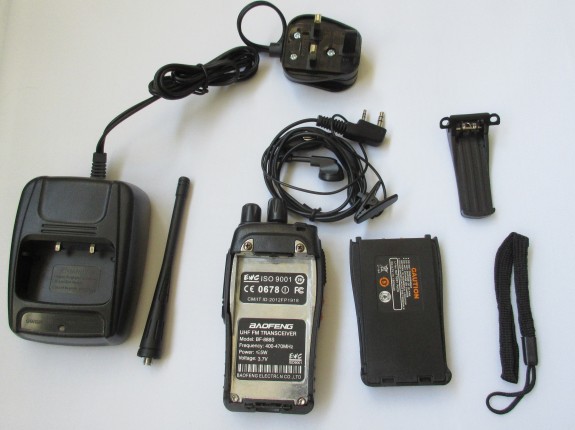 Programming the Baofeng BF-888S
As we've mentioned, you need the PC programming lead to be able to program in the channels. The 16 preset channels are not part of the amateur allocation, and some of pre-programmed frequencies are allocated to the UK emergency services, so not channels you'd want to transmit on.
If you own a Baofeng already, you may already have the required lead. This is a USB lead with two plugs, one slightly smaller than the other. This plugs into the speaker and microphone holes shown here: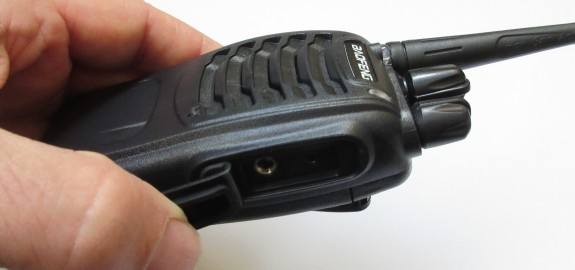 You'll also need the Baofeng BF-888S Programming Software – At the time of writing, this could be found here: www.409shop.com/shop_displaynews.php?id=292. It's a standalone EXE that doesn't require installation. A second EXE is supplied to switch between Chinese (default) and English.
Once installed, start the program, select the right comm port for the lead, turn the radio on, and select "Read from Radio" to get the channels.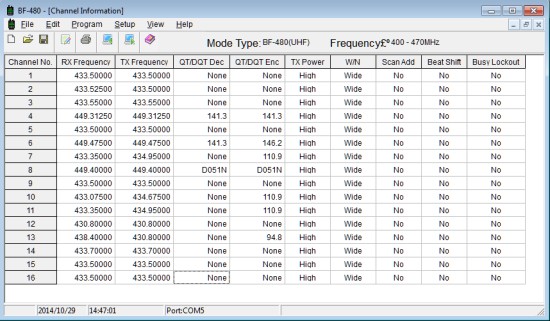 Programming is pretty straightforward – The transmit and receive frequencies for each channel, the CTCSS or DCS tones, if required, Narrow/Wide, and Power. Once set, you can then "Write to Radio"
Trying to program an unsupported frequency won't work. Check out the error message: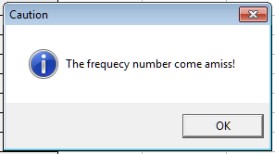 You can also tweak the radio's settings – including squelch, VOX mode, voice prompts and TX time out.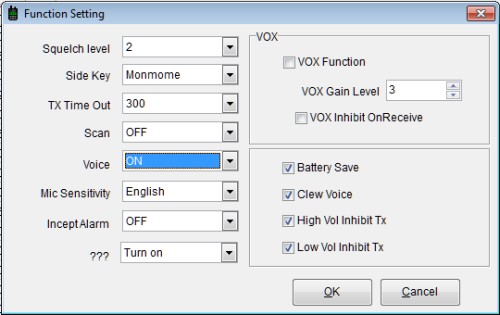 Channel List
Out of the box, the radio is pre-programmed with 16 frequencies in the 450MHz to 470MHz range. Below is a list of what ours had preset.
WARNING: These are not amateur or PMR frequencies. The frequencies cannot be used in the UK without the appropriate Ofcom licence, and you will therefore need to change the preset channels before use! Some of the channels preset are assigned for "Business Radio (Police & Fire)" and "Scanning Telemetry" use, so don't use them!
462.125MHz (CTCSS 69.3)
462.225MHz
462.325MHz (CTCSS 114.8)
462.425MHz (CTCSS 114.8)
462.525MHz (CTCSS 114.8)
462.625MHz (CTCSS 127.3)
462.725MHz (CTCSS 136.5)
462.825MHz (CTCSS 162.2)
462.925MHz (DCS 025N)
463.025MHz (DCS 051N)
463.125MHz (DCS 125N)
463.225MHz (DCS 155I)
463.525MHz (DCS 165I)
450.225MHz (DCS 023N)
460.325MHz
469.950MHz (CTCSS 203.5)
Summary
It works, it's fairly durable, and it's at a silly price. Certainly not for everyone, but if you can live with the limitations of 16 70cm channels, then this could be a handy addition to your collection.
By the way – I won the Baofeng BF-888S reviewed here in the Essex Repeater Group 2014 AGM raffle. Thanks to the ERG for offering this little radio as a prize. Thanks also to Murray G6JYB from the Essex Repeater Group for suggesting that it gets a review on Essex Ham.
Pete M0PSX
Your Questions
Q. I recently bought a pair of these radios for me and my nephew out camping. I was just wondering is there any real-world value to programming them with new codes and if so what are they?
Most Baofeng 888s are programmed with preset frequencies that you're not allowed to use without a licence. There are no frequencies that you'd be allowed to transmit on without some kind of licence (including PMR frequencies due to the 888's power rating). Here's what you can do with an 888:
Listen to amateur radio UHF frequencies (such as a local repeater)
Talk to other amateurs on amateur radio UHF frequencies (once you have passed your amateur radio licence and got a callsign)
Communicate with colleagues by getting a Business Radio Licence (Simple UK) from Ofcom (£75 for 5 years at the time of writing)
Listening to frequencies that you're allowed to listen to (apart from amateur radio, there aren't many you can legally listen to)
Related Links